Best Things to See and Experience in Dubai
Are you considering booking a trip to Dubai? Dubai is an incredible city with many unique attractions for travelers. Instead of getting overwhelmed by choice, check out our top ten must see experiences for your trip to Dubai.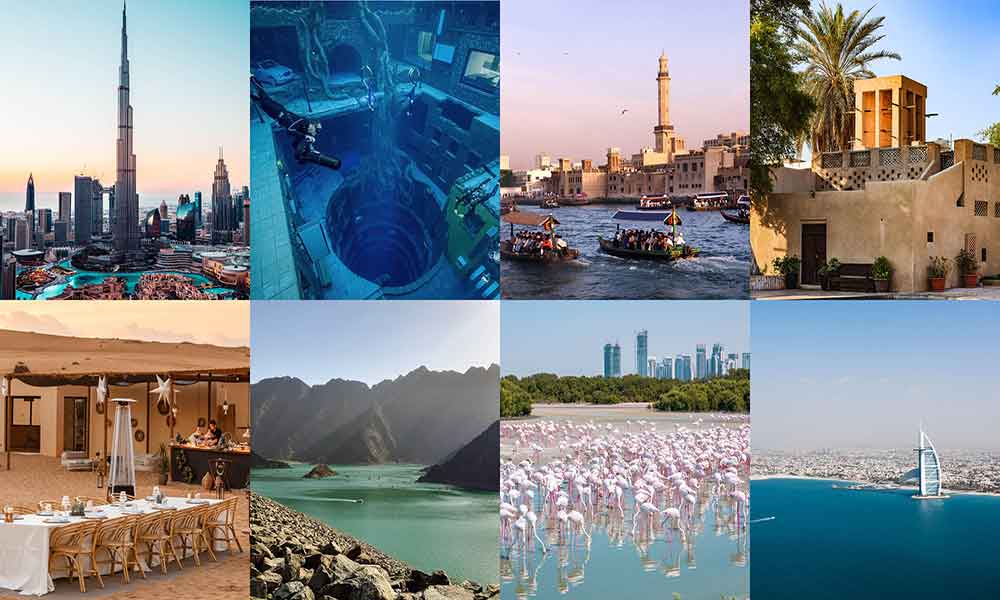 1. Burj Khalifa
You may recognize this iconic landmark from "Mission: Impossible – Ghost Protocol". It ranks high on the Dubai to do list as it holds the impressive title of tallest building in the world. It is also home to the world's highest observation deck on the 148th floor which allows guests to take in the breathtaking city view that extends all the way to the Persian Gulf. Book your trip up to the observation deck at sunset to make your experience extra memorable.
2. The Dubai Fountains
After your visit to the Burj Khalifa, make sure to check out the Dubai Fountains which are located at the base of the massive structure. The fountains are a must see for the choreographed shows that run in the evenings. There is also no shortage of restaurants overlooking the fountain so be sure to stop and have dinner here.
3. The Dubai Mall
In the area surrounding the Dubai Fountains, you will find the Dubai Mall. Once you've seen the fountain show there are a wide variety of shops in the massive mall that you can browse. This mall is impressive in size so make sure you have time to walk all the way through.
4. The Grand Mosque
The Grand Mosque in Abu Dhabi is one of the most visually stunning structures in the world. Abu Dhabi is an hour and a half drive from Dubai but is definitely worth a day trip. There are a variety of transportation options for travelers who plan to make the trip from Dubai to Abu Dhabi. If you plan to return to Dubai after your venture out, you can use luggage storage in Dubai so you don't have to take all your things on your day trip.
5. Jumeirah Mosque
If you're short on time and can't make it out to Abu Dhabi to see The Grand Mosque, the Jumeirah Mosque is a great alternative. The Jumeirah Mosque is a unique experience for tourists as it is the only mosque in Dubai that is open to non-Muslims. Visitors are allowed to come inside and take in the intricate décor and structure of this incredible building. Please do be aware that modest dress is required if you plan to visit the Mosque.
6. Safari into the Desert
You can't leave Dubai without a trek into the desert. There are a variety of guided tours that allow you to participate in activities like four wheeling, sandboarding, and even camel riding. You can also take a safari style tour for a more laid-back day in the dunes. Not to mention you'll get to enjoy the amazing views of a red sand desert.
7. Hit the Beach
Many tourists come to Dubai each year to enjoy the gorgeous weather and beautiful beaches. Dubai has many beaches that you can check out during your trip. Jumeirah Beach is the most popular and is known for its warm bright blue waters and soft white sand. If you are looking for a quieter, more relaxing experience, check out Sunset Beach also known as Umm Suqeim Beach.
8. Deep Dive Dubai
Another world record that Dubai holds is for the world's deepest swimming pool for diving. If you are feeling adventurous you can participate in a freediving or scuba diving course or guided experience. The pool is themed to resemble an abandoned sunken city that includes underwater lighting and sound systems to set the mood. There are different diving options for experienced divers as well as beginners, and those that don't want to dive can still see all the action through the large windows and screens on the pool.
9. Hatta
Hatta is a mountain town just south-east of Dubai. If you like to spend your vacations hiking, this scenic town should be on your to do list. In addition to hiking, you can also kayak along Hatta Lake or go mountain biking. Hatta is also home to Asia's first ever water park, which is also popular with tourists.
10. Dubai Miracle Garden
If you would like to continue the trend of visiting Dubai's world records, the Dubai Miracle Garden holds the record for the world's largest natural flower garden. The Garden includes 50 million flowers transformed into famous buildings and structures and is a must see in Dubai.
Dubai is an amazing city with so many different experiences to offer, so book your trip to Dubai and get exploring!
Follow – https://viraldigimedia.com for More Updates