Depression is one of the worst states a person can get into. It is very difficult to spot it at the beginning, and once it is there, you feel too exhausted to deal with it properly. People start blaming themselves for not being able to deal with some simple things, for not being interested in much in life, for ignoring reality, and it makes the situation only worse. It is hard to explain to others, but some people understand you – mostly those who have gone through something similar in their life. It can happen at any time – even in high school and college. The advice you will find below should not be considered as an alternative to medical consultation or treatment. Depression is a serious medical state, and you cannot ignore it. There are many things you can do to try and alleviate it, including talking to a therapist, trying medical marijuana or using a THC product likes those from Finest Labs. If you decide to do the latter, you must ensure they are legal in your country of residence and you might also want to speak to a medical professional beforehand. Furthermore,  you can also visit LA Weekly's report for your health.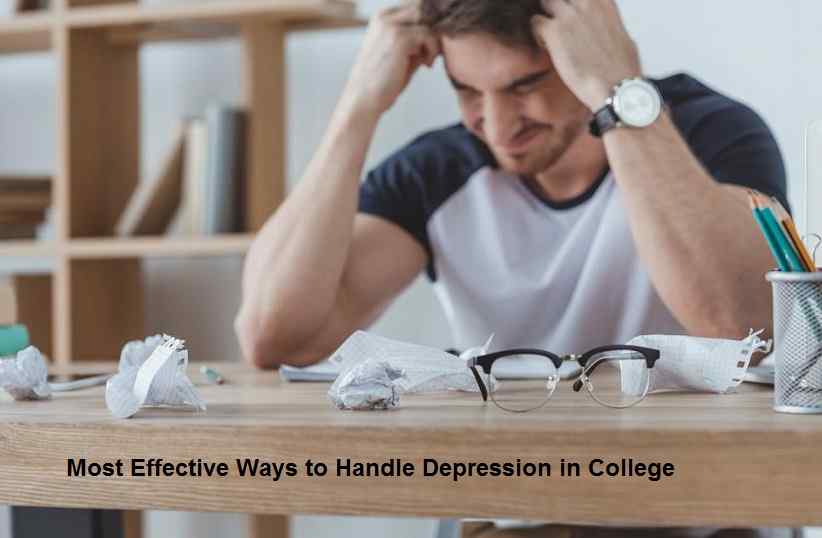 Don't expect too much of yourself, but don't give up on your goals, either. It means that you should not expect to be 100% efficient while depressed, but also you should not allow yourself to stop caring about the final result. What you need is a balance of determination and patience. Your goals for this period should become significantly more modest, but once you set them right, you should try and achieve them. You can start with the simple observation – how many hours of energy you have. While depressed, we lose strength, power, very fast, and it is normal. However, you should track even that one or two hours of activity and try to make the most of them.
If you cannot love yourself, be at least kind to yourself. Our world is a highly competitive and not always lovely place. It is hard to achieve some goals and be better than others even when you are in good shape. Thinking about it, you may start blaming yourself for getting depressed, and it is a complete "no go" for healing. If you cannot love yourself in this state, you can be kind to yourself. 
Kind, in its turn, is not equal to full self-forgiveness. If you start allowing yourself everything, you will end up in a much worse state than you were before. Let yourself do less, and maybe even worse from time to time, but don't allow yourself to procrastinate 100% of the time.
Look for help when needed, and make choices that help you proceed with your life. Sometimes we all look in our to-do list and think that we won't be able to complete it even if we are 200% effective. It makes us slow and unwilling to work. It is a paradox – having so many things to do, we become unable to do them.
 Our brain protects itself from burning out. When you are depressed, this mechanism turns on even faster. To minimize this effect, we recommend delegating some of your tasks to professional writing services. This way, you will be able to submit papers on time and learn from the samples all at once. Make a decision to be involved in buying essays online from time to time, to make your academic load, and, consequently, anxiety level less. Of course, you cannot let essay writing companies do all the work for you, but you can make your life a bit easier by asking for some expert assistance.
Be attentive to your lifestyle more than you ever have been. Again, it is hard. This advice is not easy to realize for people in a better situation than you are; we know it perfectly well. However, it is one of the steps to feeling well. Nutrition and physical activity play a big role in the treatment of depression. You may wish to look into a natural solution like kratom to help you support your mental health. There are lots of different strains available, and all of them have slightly different effects on people – you can check out a resource like Kratom.org to find out what the best options for anxiety and depression are. Of course, kratom is not going to be the be all and end all cure to these feelings and, if you feel able to, you should talk to your doctor, or someone you trust, about how you are feeling and try to get some help sorted out for yourself.
 Your food should not include many (in a perfect world – any, but let's say much) components that immediately affect sugar levels. You cannot afford to put your nervous system on a roller coaster. It is a good idea to control saturated fats and sugar in general. Taking walks is another thing that helps  – and it is a medically proven fact. A walk should preferably take more than half an hour, ideally – an hour. There is no need for running or even jogging. Just walking around is enough.
When it comes to depression, nothing can be more advantageous to a person than a timely medical consultation and further careful treatment. However, these tips may help you to adjust some spheres in your life according to this temporary unfortunate situation and get well faster.