A laptop can be used for various tasks. You can use it to manage documents, browse the internet, manage your multimedia files, and many more. However, not all laptops are fit to be used in gaming. For that, using specialized a gaming laptop is always recommended.
Here are some of the smart reasons why you should get a gaming laptop for the best gaming experience.
Superior Display Quality
Playing games on a generic laptop won't let you experience the exceptional graphics that particular computer games bring. This is because generic laptops have inferior display quality as they do not have the appropriate technology for gaming. A gaming laptop like the Asus ROG Strix SCAR III has a bigger screen display (15.6"), so it can pack more pixels and has a high definition screen resolution.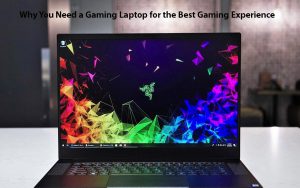 Gaming laptops also have dedicated video cards like the NVidia GeForce RTX 2060 that can deliver crisp and clear graphics quickly. Also, gaming laptops contain high VRAM or graphics card memory, which leads to better graphics processing. This is important for rendering stills and videos.
Better Display Technology
Gaming is undoubtedly an enjoyable activity, which makes it last for numerous hours, especially if you are immersed in the game. However, prolonged use of digital screens may cause eye discomforts known as "digital eye strain".
According to the American Optometric Association, digital eye strain includes eye pain, dry eyes, and vision blurring, caused by sustained exposure to computer screens.Fortunately, gaming laptops such as the ASUS TUF Gaming FX505DD contain advanced display technology. This includes a blue light filter, anti-radiation, and anti-glare that prevents or reduces the chances of users experiencing computer vision syndrome—making it a healthier option than generic laptops.
Portability
While desktop computers can be customized or upgraded to become gaming systems, it can only be used at the comfort of your home. Gaming laptops provide a solution to this predicament.
A gaming laptop like the Gigabyte AERO 15 is as powerful as its desktop counterparts but offer portability. If you are fond of travelling or have a job that requires you to be out a lot, gaming laptops are perfect for you because you can bring them anywhere since it can only fit inside your backpack.
Exceptional Performance
If there is one quality of gaming laptops that puts it above generic laptops, it is performance. Gaming laptops have better hardware such as new generation processors, which makes computing speed and processing speed a no match for generic laptops.
Because of the exceptional performance of gaming laptops, individuals in the media industry such as photographers, video grapher and even architects prefer it over generic laptops, despite not being fond of playing computer games.
Being a gamer and using a generic laptop that contains inferior technology is genuinely a disadvantage. Using a generic laptop for gaming just won't cut it and won't let you experience what it's like to play computer games the appropriate way. Get a gaming laptop today and start having the best gaming experience that you deserve!