Quality customer service is an important deciding factor in the growth of a company. Customers nowadays expect fast, easy and excellent customer service available on multiple communication channels. Customers can easily look for other options if they are not provided with adequate customer service which can result in the loss of sales.
When a company or business is in its initial stages of growth, it might not have the resources to cater to a customer's service demands. Most of the customer's requirements and expectations are expensive and can take time away from other business activities. Outsourcing a company's call center services can improve a company's image and its customer relations which leads to an increase in sales.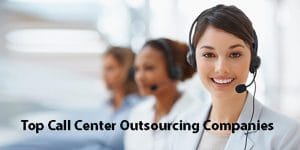 Call center outsourcing vendors can turn out to be a valuable investment and an asset to the business. They handle a range of activities like tech support, lead generation, market research, etc. All top call center outsourcing companies provide a list of services that are essential in running a business and more. The tricky part is how to choose a call center provider who can best suit the company's needs. Here is a list of considerations to keep in mind when choosing a call center provider –
It is important to research and understand all the services that call center providers are offering. A comparison can then be drawn with all the features that the company requires, the price range that can be invested, etc which can make the list of choices narrower.
Before choosing a call center services provider, the company should get a list of references and check upon them. They should also consider talking to the provider's existing client base to get their perspective.
Most call center providers will require a minimum volume of calls to be able to work with a company. Any company looking to hire a provider should have an estimated figure to quote to them.
All businesses have different requirements. They require the services of a call center for their own set of needs. A company might require 24/7 services, online availability, etc, so it is important to check with the services provider to see if they have the required features available to achieve its business goals.
Training your employees to conduct themselves professionally while talking to clients is an expensive and lengthy process. The time and resources can be better spent on other aspects of the company. Outsourcing a company's services is easier as it does not require a significant investment of time or money.
Outsourced companies are comparatively more flexible and scalable than in-house call centers. A company looking to expand its growth should choose a resource that can provide them with the services required to boost their growth.
There should also be a check to see if the service provider's existing hardware/software technology can be integrated with the company's easily.
A company looking to expand its operations worldwide should opt for global call center outsourcing as there would be a requirement for people who can communicate in multiple languages to address customers from all over the globe.
A call center provider with experience in the insurance industry is not going to be of any help to an IT-based company. It is wise to look for service providers who have industry-specific knowledge that the company can benefit from.
The company's size should be considered when choosing a service provider. Opting a small service provider when there is a huge quantity of work is only going to slow the process down while opting for a bigger one can lead to unnecessary expenses.
Apart from these considerations, a company should also note the many benefits a call center service provider can offer.
Expert Callers has 12 years of experience working for multiple industries. It offers global call center outsourcing services to its clients and prides itself on providing quality and performance-based work. As a company, it assures operational and technological excellence and customized solutions to its clients.