Businesses, whether big or small, will be benefited by an office phone system instead of installing several single-line phones. This solution can enhance communication within the company and lead to visible improvements in the staff's productivity. However, using an office phone system can get confusing at first. It is very different from the typical phone lines that you have at home.
If you plan to have a small business phone system installed in your growing company, you need to understand all the facts about how it works. Here are several things that you need to know about office phone systems: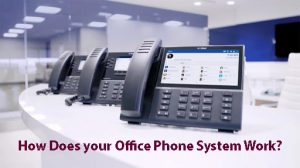 Types of Office Phone Systems
There are two basic kinds of phone systems that your company can use for better communication. The first one is called the multi-line phone system, while the other one is the private branch exchange (PBX) phone system.
Both of these small business phone system options are somewhat similar in their functions but different in their complexities. If you want a simple phone line, you can have a multi-line phone system installed in your workplace. Smaller businesses often use it. But if you want the benefit of utilizing more features, you can have a PBX line installed at the office. You may also wish to consider seeking out a Phone System support service so that you can be sure that your technology will work as it should and that any issues that arise are dealt with quickly by those with expert knowledge of these systems.
How Does a Multi-line Phone System Work?
The multi-line phone system functions differently depending on the specific options. But the most basic function of this type of phone system is providing a separate phone number for each line in the order. Businesses regularly treat each number separately instead of publishing the numbers as one. When a particular line receives a call, a light in the dashboard will blink, and the phone unit attached to it will ring. If the line is currently in use, the caller will hear a busy tone, or the call will be directly connected to the receiver's voicemail.
For those who use more complex multi-line phone systems, they can use the "rollover" service wherein they only have one phone number. The incoming calls will go directly to the lines in descending order. It means that when two callers make a call simultaneously, one call will go through Line 1 while the other will go through Line 2. Aside from these features, both the basic and the "rollover" multi-line systems also have call transferring and voicemail features.
How does a PBX Phone System Work?
There are two types of PBX phone lines for businesses. The first one is the basic PBX system that generally works like a multi-line system but without any human intervention. It means that the incoming calls will get in through a buffer, which is the primary electronic receiving area. Then it will proceed to do another action depending on the number dialed by the caller. When callers dial the central number, a recorded message will prompt them to dial the extension number of the person they wish to talk to. They may also wait and listen to a list of extensions enumerated by the voice message and then press the corresponding number to connect. They may even directly dial the extension line to leave the voice answering system and talk to the person at the end of the extension line. y
Meanwhile, the other PBX system has the capacity for internal connection. It means that members of the team can use their phones to call another department within the company without needing to use an outside line. They need to dial the last three digits of their phone numbers to get hold of the other line.
These are the types of phone systems that you can use for your business. If you are not sure about the kind of phone system that your company needs, you must assess how your business operates before calling your telecommunications provider to install a business line. It will make it easier for you to expand your communication lines in case you need to scale your business for future growth.