If you are in a business that requires sending packages to customers day and night, then you would know that logistics can be a nightmare. If you are trying to get into a business that involves import and export, then you may also be unsure because of all the paperwork necessary for shipping.
Logistics is no easy task but is crucial to your supply chain, so if you are struggling in this aspect, several service companies can help you out. Freight Services, in particular, will be valuable and beneficial to your business since you can hand over most of the work, such as paperwork, regulations, and others, to workers who are experts in the job.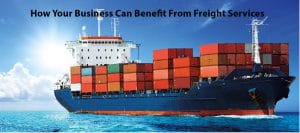 Freight forwarders act as the intermediary between you, the shipper, and several transportation services in different modes. These types of companies handle the logistics of your goods to their destinations to help ease the process for you.
Flexible Options
Freight forwarding companies have an extensive network of carriers, so you are not limited to a single option or just a few options. If you are starting out your business, you might still be learning the ropes and be unfamiliar with what freight options will be the most suitable. With the help and knowledge of freight companies, you can determine what shipping methods will work best for your company and your customers.
At the same time, you have the liberty to be flexible when partnering with a freight forwarder. You do not have to be tied to a single carrier and can change, if needed, to ensure maximum productivity and profit.
 Save on Costs
Freight Services will help you cut costs through economies of scale since the carriers will be sending your shipments in bulk. At the same time, they can help you negotiate for lower prices with their carriers or find you the best rate from their network. As a bonus, freight forwarders will also help you stay up-to-date with market dynamics, so you are aware of any sudden fluctuations and can make proper business decisions.
Help With Paperwork
If you are shipping internationally, then you will know that paperwork can be tricky, given all the regulations of importing and exporting. Freight forwarders have expertise in the field, so they are familiar with the rules across borders and the paperwork necessary to get your shipments cleared.
If you run into a problem with clearance, experienced freight forwarders will also help you get through the system with their knowledge of the regulations and procedures. Essentially, you can get rid of the hassles involved in international shipping by finding the right freight forwarding partner.
Improve Logistics
Overall, freight forwarding companies will help you improve your company's logistics flow. For example, your current logistics model involves shipping all your goods to your main warehouse before repacking and shipping to specific destinations. With the expertise of a freight forwarder, you may be able to come up with a more efficient strategy that no longer requires shipping to your warehouse first.
Working with a freight company will also help you streamline your supply chain to establish more efficiency in your logistics flow. By shipping in larger volumes, you can reduce your costs and improve the overall profit.
Whether your business is big or small, getting help from a logistics company has significant benefits. Naturally, you also have to make sure that the freight forwarder you choose is credible, has the resources, and can help you deliver value.