Every year, there are thousands of household fires endangering personal properties and human safety. The problem is that homeowners do not typically put fire safety as part of their daily routine. The results can be devastating, so it's best to take several precautions to avoid dangerous residential fires.
Fire safety practices should be a top priority, especially if you're renting your space out. The last thing you want to happen is for your guests to be caught in a fire accident. After all, that property is a huge investment that you certainly don't want to go to waste. It should be generating money more than what you're paying for it. To help you ensure that the living space is safe from fire, here are a few tips that you should follow.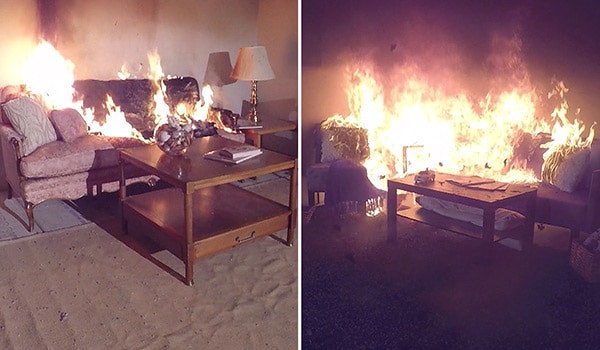 Use surge protectors
A surge in power can cause an electrical fire. This is where surge protectors become necessary. Prevent getting excess electricity into your devices or mobile equipment by using a surge protector. This option is popular as it can provide long-term protection against voltage spikes. However, if you're planning to use it for heavy-load appliances, check the safety instructions first. This ensures that the surge protector won't interfere with the built-in mechanisms for electrical surges installed in the appliances. The same rules apply if you're also using power strips in the house. It's safer to only plugin light-load appliances. It can also be worth getting professional electricians, such as those at https://masterelectrical.com/ to do a safety inspection of all electrical appliances in the house.
Take care of flammable items
Depending on the type of residential property, there can be dozens of flammable items scattered around the place. If you own a detached house or a cabin with a lawn, watch out for dry leaves and grass clippings that can create or catch fires. If you can't dispose of it right away, keep these flammable items away from your house. There are also household items that are likely to start or cause a fire, such as aerosol cans, cooking oil, nail polish, paint thinner, gasoline, and rubbing alcohol.
Store them in a secure place and away from open flame or heat. Follow the specific storage recommendation for certain household items. For instance, paint thinners should be stored in a well-ventilated and covered area and away from the rain. Furthermore, ensure there are no paper or fabrics near the heat sources. You don't want to have flames popping up inside the house. Check every room, from the kitchen to the bedrooms, for flammable items that should be properly put away or dispose of. Other examples are rages, curtains, blankets, and fertilizers.
Check your insurance coverage
Chances are, you only have master insurance coverage from the homeowner's association (HOA). This policy only covers the common areas like clubhouse, pool, or any spot shared within the gated community or condominium building. HOA master policies don't cover other things inside a unit include personal property or household goods. They also don't cover home improvements and upgrades made by the previous owner or you.
To protect your bank account from sudden expenses in case of fire, you can acquire an extra insurance policy such as a condominium insurance policy. This type of casualty insurance can cover your personal belongings and dwelling changes like home improvements or even repairs for damages. The cost of a condo insurance policy may vary depending on your deductible, location, selected coverage amounts, and age of the building.
Plan a fire escape
Lastly, you'd want to have a fire escape plan ready. This is important whether you own a single-family home or a condominium unit. Most residential buildings readily have their fire escape plans or but it's best to have yours as well. Draw or acquire a floor plan of your living space. Each room should have at least two escape routes that you can map out. If you're residing in it, inform every family member of the plan, especially the kids.
Do the same thing when you're renting out the space. It's best to also print out the escape plan and post or hand it out to the guests. Ensure everyone knows what numbers to call, how to help others, and how to get out safely. Moreover, the escape routes should be clear from clutter or furniture. Put away everything the blocks out the windows or doorways.
Fires can be prevented by taking proper precautions and implementing an action plan. This can be something as simple as ensuring there are UK fire exit door signs on all doors leading to the fire exit, plus having working smoke alarms on every floor. It can save the property, the people residing in it, and the personal belongings kept inside.
Follow – https://viraldigimedia.com for More Updates