Boat Window Tint is the process of applying or covering boat windows with a film or tint. When tinting film is attached to a piece of window glass, it produces a tint. Tinting film is typically constructed of transparent polyester film with a very thin and even coating of tinting agents such as dyes and/or metals applied to it.
Why you should tint your boat?
Boat owners are gradually realizing that marine window tinting is one of the most effective methods to enhance the appearance and comfort of their vessels. Tinted windows keep your ship cooler and more pleasant when sailing, as well as preserving inside furniture and enhancing glass safety. Boat window tinting is without a doubt one of the most effective methods to improve the appearance and comfort of your boat. Tinted boat windows are also safer, and the inside is less prone to break or fade.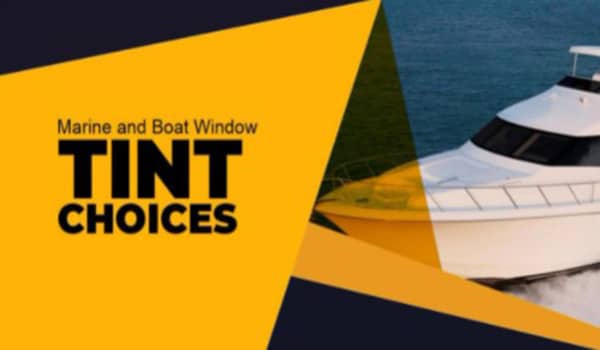 Bock UV – A and UV – B Radiations:
In an age when many people value their health, youth, and beauty, research has revealed that UV rays speed up the ageing process of our skin and cause melanoma, a potentially fatal form of skin cancer.  Boat window films can create a strong barrier and help to blocks the potentially harmful (UV-A and UV-B). Tinting Films also provide additional skin and eye protection. Reduces fading and cracking on the inside. All rubber, wood, cellular phones, audio equipment, and speakers will last longer.
Extreme Weather and Glare Protection:
The glare from the sea, reflecting surfaces, and other vessels' lights at night are reduced by window tinting. Improves eyesight and safety while reducing eye fatigue. Both the driver and the passengers benefit from the reduction of glare and eyestrain.
Sun rays from the outside are blocked by polarized window tint. It adds a permanent barrier between your boat's interior and the damaging effects of the sun, providing cool view protection. Marinetechmiami manufacturers are creating luxury and high-end vessels with higher-grade interiors, thus protecting these interiors from fading and cracking has become increasingly important.
Glass tinting protects against shattered glass in the event of an accident. Ordinary annealed glass offers a significant risk when it fractures. The broken fragments form daggers that may injure or even kill people. Increase the level of safety by adding an extra layer of defense. Window breaking is reduced to small sharp fragments of glass. Shattered glass is held in place by marine window tinting, which increases safety.
Criminals and smash-and-grab robbers target windows and doors as the most susceptible means of access. Glass is a tempting target for vandals looking to cause trouble or worse. Alarms and security systems are useful, but they don't offer much protection against skilled or determined attackers. Intruders cannot easily pierce the glass with boat window tinting, even if they strike it with a hard implement.
Although marine window tinting is simple to install, it is still best left to the pros. People frequently attempt to tint their boat windows to save money, but their efforts are futile. Here are some basic steps you can follow for the installation of window tints.
Cutting and Making Tint:
You must first measure the size of your window in order to create a tint film. We recommend leaving almost one or two inches of additional room in the tinted film before cutting it. During the installation of the film in the boat windows, this additional film will be readily removed.
Clean the Surface:
Before applying tint to windows on a boat, all of the windows must be clean. You'll need to prepare a cleaning solution out of the water and dishwashing soap to adequately clean the windows. Your marine windows will be immaculate after using this treatment.
Residue Cleaning:
Before you put the window tint in your boat, make sure there isn't any undesirable residue on the windows. If you see some solid granules clinging to the window, use a sharp razor blade to remove them. You should be very careful not to damage the glass while doing so.
Rub Squeegee for Smooth Surface:
Pass a squeegee over the window glass after removing any residues from tinting boat windows inside or out. This will make it easier for you to ensure that no residues are left behind. It may be tough for you to pass the squeegee, but gravity will ensure that it moves from top to bottom.
Installation:
To begin, spray the windows with the cleaning solution that has been prepared. Second, after revealing adhesiveness, pull off the liner and spray over it. Position the marine window tinting film over the window to cover it during installation. Finally, depending on the design of your windows, you may cut down the film with some additional space.
Flatten Boat Tint:
Squeegee your window tint again after it has been installed to flatten it. It is recommended that you check for any air bubbles while doing so. Squeeze the mirror edges to flatten them and achieve an outstanding tinting result.
Heat Boat Tint:
The final and most important stage in tinting marine windows is heating. When the film is heated with a blow dryer, it becomes stickier and tightens the boating tint on the glass windows. Blow-dry the film while passing a squeegee over it in both horizontal and vertical directions.
Window film experts at Marinetechmiami can help you pick from a variety of marine and boat window tinting solutions, and our project coordinators will be there to support you every step of the way. Call them today to schedule a no-obligation consultation and quote for any boat window tinting option.
Follow https://viraldigimedia.com for Latest News