Keeping your personal information safe is essential if you want to make the most of your online experiences. Whether you enjoy connecting with people from all over the world and making new friends or love the convenience of shopping online, you need to ensure your information stays protected from viruses and hackers while you are at it.
Information security is not just a concern for businesses in this digital age. It has become just as important for individuals to keep their passwords, and financial and other private information protected from intruders who could steal their identity and use it as a means of causing them harm. Considering the growing number of scams, hackers, and malware we come across today, the Internet is not a safe place to be. And the fact that all our devices, from our phones to laptops, seem to be connected to each other increases this risk even further. But you can use the best satellite internet to save yourself and decrease risk.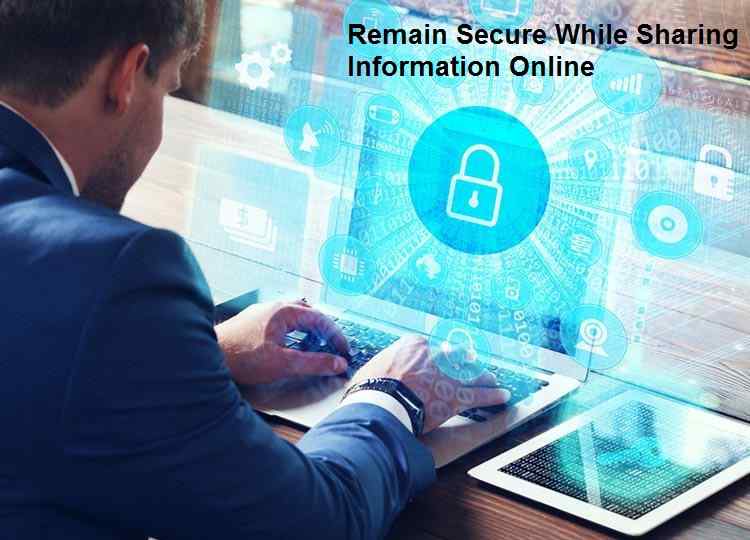 Fortunately, it is possible to continue using the Internet as you currently do, whilst ensuring your safety. Here are some simple measures you should take to stay safe while sharing information online:
Share Information Securely
In order to ensure secure information sharing, you have to be wary of who you share your information. Unless you know that you are dealing with a trusted party, never share your personal information with anyone over the phone or the Internet.
For instance, if you receive an email from the bank asking for your bank account details, make sure it is actually the bank you are dealing with. One way to confirm this is to get in touch with the customer service department of the bank directly using the number mentioned on the website and ask whether it was a genuine email before you give out any information.
Browse Safely
If you wish to stay safe online, you need to protect yourself by only dealing with websites that are secured through encryption software. Encryption software protects the information you share online while carrying out online transactions. It will display a 'lock' symbol on the status bar of your browser, which indicates that your information will remain safe when transmitted across the server. Before sharing any information online, make sure to look for this lock.
Choose Strong Passwords
When you are setting up a password, make sure to set a unique password that contains a range of upper and lower-case letters, symbols and numbers. Moreover, do not use the same password on all your online accounts and change your passwords often. If you have difficulty remembering different passwords on each account, consider writing them down somewhere safe. Also, try not to share your passwords with others, even if they are close friends. You never know who could be using your account for what purpose.
Make Regular Back-Ups
It is possible for any computer or device to crash or get infected by a virus at any point in time. This means the possibility of losing all the data stored on a device is always present unless you have backups. Make it a habit to create backups on a regular basis so that your important files can always be recovered in case the system crashes or you delete something accidentally.
Always Read The Privacy Policy
We all share our information online on multiple websites every single day for one purpose or another other but how many of us actually take the time to read the privacy policy when the website asks us to? Yes, it is so much easier to click 'I accept' without going through it, but this important document tells you how the website uses and stores the information you provide to it and whether any of it is shared with external parties. For this reason, it is important to always skim through the privacy policy to ensure your provided information will be used only for its intended purpose.
Install Security Software
Make sure to have the best firewall, anti-spyware and anti-virus on your system. Change the settings on these so that any updates are installed automatically. This security software protects your files and passwords against intrusions and will notify you whenever your security is at risk while surfing the Internet.
Avoid Opening Unsafe Links And Attachments
Cybercriminals trick people into revealing sensitive information using fraudulent means. Whether it is through spam meals telling you that you've won an amazing prize or an online quiz that looks too interesting to ignore, they use different tactics to intrigue you into opening links and attachments that will ask you for unnecessary personal information in the process. So, next time an unknown source invites you to open a page or gives you an attractive offer, make sure to stay away.
Use Your Social Media Wisely
Do you love posting regular updates on your social media and telling your friends what you are up to? It is not always a good idea to do so. Sharing too much information puts you at risk of identity theft. An impersonator can gather lots of information about you and use it to gain access to your accounts, getting their hands on your personal and financial details in the process.
The solution is to limit the visibility of your information to a few close friends only and check your social media settings from time to time to ensure your information stays safe and private. Also, never post sensitive information on public platforms.
Deal With Safe Websites
 If you love shopping online, you probably provide sensitive bank details to several websites in order for them to process your order. To ensure your safety, make sure to only buy from legitimate and trusted websites. Check the website's address to make sure it starts with 'HTTPS', not just 'HTTP'. Moreover, stay away from websites that have unusual or misspelled names as they could be risky. If you think that which SSL certificate to choose from then, there are many options that fit your website, for example, if you have multiple domains and subdomains then, Comodo multi-domain wildcard SSL is an ideal option. You will have a single SSL security solution for all domains and subdomains.
Be Aware Of The Current Scams
The world of online scams keeps evolving with time, and you will always find new ways of gaining unauthorized access to your private information being brought to light. The only way to protect yourself from the latest scams is to be aware of them.  Awareness will ensure you keep up your guard so that any mishaps can be avoided.
Conclusion
We all love using the Internet in different ways, whether it is for working, shopping, or conducting bank transactions. However, very few of us take the necessary steps to protect the information we put out there, not knowing the disastrous consequences of our information landing in the wrong hands. It is high time we start taking data security seriously. The above tips will get you started on the right track and adopt precautionary measures.