When you have a small business, it is a very good idea to be mindful of your employees, and provide them, with health insurance benefits. This will not only make them respect you, but it will also help you to ensure that your work is not interrupted by them falling sick often. At the same time, you should be mindful of the budget too and stay within a fixed budget. It is reasonable to wonder whether a small business should opt for health insurance at all! Well, the answer is 'definitely yes'. A small business health insurance is one of the things which works well and retains the competitive edge for your business. Ultimately, employer health insurance keeps your employees happy and acts as a motivation for them.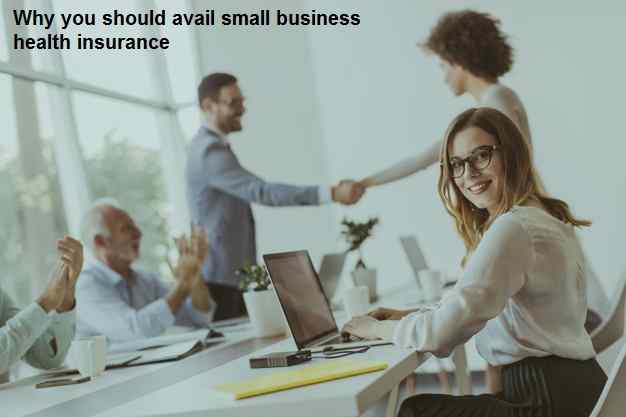 Health care insurance benefits are optional for small businesses, but it is indeed of critical importance to most employers. Employers of all sizes should be well aware of the different pros and cons of offering health benefits to employees.
In fact, in many countries, it is mandatory to get your employee's health insurance benefits. To cite an example in Hawaii, it's mandatory for employers to provide health insurance to their employees.
Health insurance options for small businesses for their employees
There are many health benefits options for small businesses to provide healthcare benefits to their employees. Small businesses are not legally required to offer health care benefits to employees unlike in Hawaii, it is still the trending benefit, which is quite popular. Most employees would appreciate this perk from employers. In fact, it is one of the major benefits they see before joining the employer.
Small businesses have five options to offer health care benefits to their employees. These are:
The traditional group insurance for health benefit
 The public state offers group health insurance policies to small business firms. These healthcare packages have affordable premiums within a small budget and ensure that employees get full value from the group policy.
Group coverage HRA
Small businesses can choose to combine the traditional group policy with the reimbursement benefit with the group coverage HRA. The group coverage HRS combines the group policy insurance with a monthly allowance of tax-free money for the employers. It reimburses the deductible expensed covered under the group policy. However, it does not reimburse the individual insurance premium.
The taxable stipends
Small businesses can implement the informal wage increase or stipends as employee health benefits. With the stipends, the business owners give each of their employees a flat raise and encourage them to spend it on the insurance and services, which they would otherwise receive as benefits.
The pros and cons of small business who offer health care benefits to the employees
There are various advantages associated with small business health insurance provided to the workers. Here are a few of these pros:
Attraction and retention of the most qualified expert employees in the firm
Health insurance may not be a compulsion, but it is necessary to retain the most qualified employees. If your other competitors are offering such additional perk advantages, the most qualified and expert employers may shift their jobs. To retain the best talent, you need to offer this perk to employees.
Avoidance of health care reform assessments
Many legislation such as the Patient Protection and affordable care Act requires that the employers need to pay 50 or more full-time employees of the firm who are full-time workers with adequate healthcare packages or are subjected to assessments if the employees receive premium tax credits to buy their insurance packages. This mandate has been released in 2015.
Take due advantage of the small business health care tax credits
A small business which has less than 25 employees may be eligible for the tax credit for the purchase of large health insurance for the employees.
Give the employees, the power of purchase
If you decide not to contribute anything to the employee's health insurance, you can at least offer them the opportunity to obtain group rates through the business. Small businesses can purchase health care coverage policies through an insurance market that is established specifically for them through the Small Business Health Options Program (SHOP).
You can ensure the wellness of your employees
You want to ensure the health of your employees and guarantee that they receive the care that they need in the event of illness. For example, if they need urgent care in new york, you will want to know that they can access fast, efficient, and personalized healthcare. The insurance plan offers preventive care measures which keep the employees working and healthy, if the employees do not receive preventive care and yearly packages of medical checks, you could have a possibility of a large number of employees down with serious illnesses, for a long time.
Apart from these pros, there are many cons of offering health benefits to the employees. These includes:
Rising costs for health
Health care costs have been rising enormously in recent years. As a result of this, small businesses or employer health insurance are having a tough time in financial planning and maintaining an employee budget.
The hassles of administration
Even though the insurance company from whom you purchase health insurance usually acts as a plan administrator, you need to choose the insurer immediately, and then spend some part of your time filling out the forms, being reminded of the premium, and acting as an intermediary between the employee and the insurer.
The liability potential
The potential liability for the selection of the healthcare provider is the malpractice of the employees. This risk is quite small, but one of the driving reasons which make the employees consider not having to offer health insurance.
There are plenty of health benefit options, and they have benefits which can be availed by the business to offer their employees. It keeps the employees content and motivates them to perform better for the growth of the company. Small businesses are legally not required to offer either a single or group health insurance coverage to the employees, but they have several options they can opt to compliantly provide healthcare benefits to their employees and keep them motivated and offer them, additional perks.