PPC advertising can boost your SEO and improve your site visibility.
SEO strategy is the process of organizing website content by topic, allowing search engines to determine the purpose of a user's search. By first optimizing a website around topics, you can improve your rank among long-tail keywords that correspond with those topics.
Pay Per Click or PPC for short advertising is an internet advertising model that directs traffic to websites. Each time an ad is clicked, the advertiser pays a publisher, like a website owner.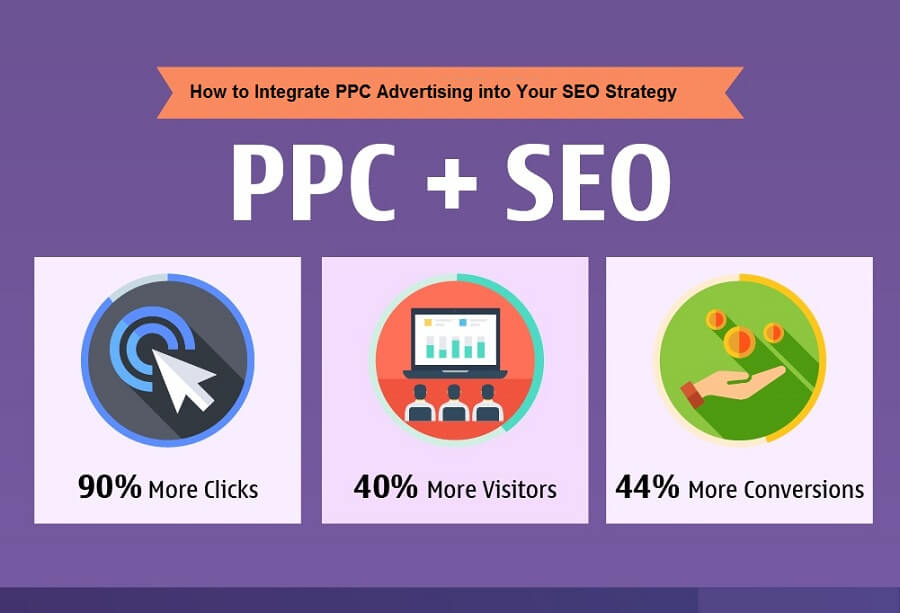 You can integrate PPC advertising into your SEO strategy by researching your target audience, making your PPC ads relevant to searches, and analyzing both the benefits and costs of PPC ads.
Research Target Audience
It is important that your business identify its target audience when formulating paid advertisements.
People search for keywords that reflect their interests, and according to a recent Clutch survey, a third of people (33%) are more likely to click on a paid search ad that directly relates to their search queries.
Businesses should create ads that people find relevant to their search queries. This helps businesses appear as a reliable and trustworthy brand to their customers.
People search online with intent, so businesses need to consider what motivates their customers and how this influences what they are searching for. After determining their target audience, businesses should produce content that directly addresses customer preferences, demonstrate their expertise with a clear focus, and optimize content to rank in search engines.
By determining your customer's intent, you can develop the most helpful content for the audience that you are trying to reach. This content should provide solutions to the issues your customers are facing, and appeal to their personal preferences in order to effectively engage them.
To create the most effective marketing strategy, it is important to understand the factors that impact how people interact with search engines. The two main factors that influence how people interact with search engines is their age, and the search engines that they currently use.
For example, baby boomers are most likely to click on a Bing search ad (13%). By optimizing your search marketing according to the age of your audience, businesses can save money on ads while engaging as many people as possible through search.
Through conducting keyword research, businesses can gain insight into people's purchasing intent, which tells you how likely they are to make a purchase at the moment.
Make Your PPC Ads Relevant to Searches
The first aspect of this marketing strategy is to understand how people use search engines to find information online. The most basic element of search related marketing is the keyword. As mentioned before, people are more likely to click on a paid search ad that directly relates to their search queries.
The main goal for your business should be to appear among the search results for the keywords that your target audience search. The first step is to understand which terms your target customers search and to learn the keywords your business should target for its search ads.
Through keyword research, your business can identify the most important keywords for PPC advertising. Using keyword research tools like Google Ads, you can determine the frequency people search for a keyword, competition for a keyword, and the average bidding price for a PPC ad for a keyword.
Using this data, you can format your paid search ads and website content to appeal directly to your target audience based on their keyword search. Most people (77%) are confident they can recognize paid search ads.
Since most people can understand the difference between a paid ad and an organic ad, it is important to maintain consistent brand messaging across all ads. This creates brand recognition for your target audience.
Analyze Benefits v. Costs of PPC Ads
The financial cost of running a PPC campaign can greatly vary depending on your business. For example, the average cost per click for Google ads is between 1 and 2 dollars on that search network, but the most expensive keywords in Google ads can cost more than 50 dollars per click.
The average small business spends between 9,000 and 10,000 dollars per month on Google PPC campaigns, whereas larger firms may spend up to 50 million dollars per year on Google PPC campaigns.
Pay-per-click advertising allows your business to interact with search engine users. Since PPC ads are ranked the highest and are the first thing users encounter when they search, they are a great way to gain recognition and attention for your brand.
PPC ads are also a great way to tailor customer's experiences by directing them to specific pages on your site.
It is important that businesses dedicate a consistent budget to PPC ads, and continue to pay for these ads over time. It's also important to consider that the more successful your paid search ads become, the more you'll have to pay, since PPC is a cost-per-click model.
Conclusion
SEO services boost your website ranking in organic search results and earn more long-term engagement with your target audiences.
When people click through your website from an organic search, it tells Google that your site is an authoritative source on the topic. This increases the chance that your site will appear among the top results for related search queries.
Data collected from PPC campaigns should inform the SEO services that you use to improve your organic search ranking. Using results from your PPC campaigns will improve success for your organic search marketing efforts.