Right from the time when the term bring-your-own-device was coined, small businesses have emerged as BYOD pioneers. And this is probably because the system serves them myriad advantages in more than one way. These companies do not have big infrastructural budgets or large IT departments, so letting the staff use their own smartphones and computers makes sense for such business owners. Further, the system provides immense flexibility as it lets the employees access business data from anywhere, whether they are working from home or are in the field of pitching customers.
It is to be noted that there is often a formal mobility strategy for larger businesses, while the smaller ones just happen to embrace BYOD organically. Still, there are threats and security concerns that they face while managing BYOD access to their data, applications and networks. Surely, overlooking mobile device management can land them in big trouble.  If you are a small business owner and let people use their personal devices for work, you must have device management on top of your agenda. Let us explain why you need to be extra conscious about it.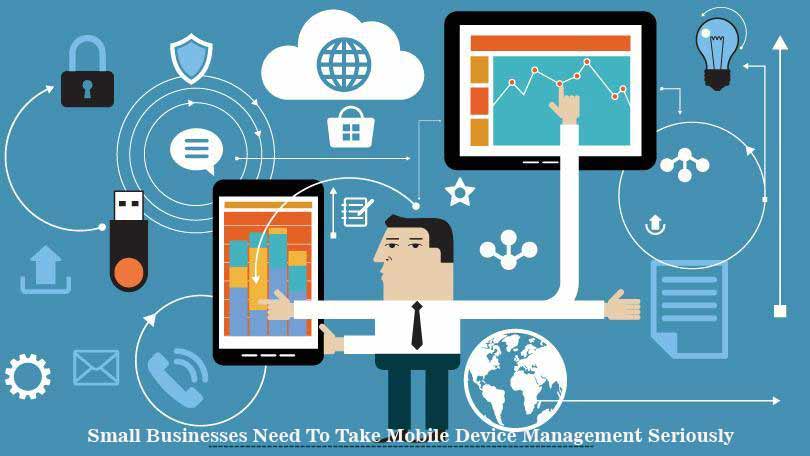 Ease of managing devices
Any organization, big or small, utilizing multiple mobile devices must have an MDM solution in place. In fact, smaller teams face a greater challenge when it comes to managing company assets. Further, controlling the content which the end-users access with their personal devices is no small task. With mobile device management, there is a single interface that makes the task easier and saves time, money and resources for the business drastically. It becomes all the more beneficial if your small business has people working remotely. MDM lets you handle the remote resources better, right from troubleshooting their challenges remotely to ensuring secure access to business data.
Enhanced endpoint security
There is no denying the fact that data security is essential for businesses, regardless of their size and scale. So every business wants to make sure that their confidential data and customer information are not mishandled or leaked. MDM scores on this front too as it offers robust security features with data encryption. An MDM plan in place means that your business is covered against malware, security breach, and all other kinds of issues. And that's not all- the IT professionals responsible for managing the devices can also remotely wipe the devices or even lock the users out if these devices happen to be stolen or misplaced.
Significant cost savings
Cost savings matter a lot for small businesses and this is the very reason why they opt for BYOD in the first place. As they let employees use their personal devices, the hardware costs are reduced considerably. This translates into one of the benefits of mobile device management for your company as well. Since you go the extra mile to manage and secure employee devices, there are seldom any issues and risks. Savings go beyond just the reduced hardware costs; you have a more empowered team without having to spend a fortune.
Control over user content
Another advantage that small businesses can derive from the implementation of device management solutions is that they let your IT team control access to business data and resources. Simply speaking, you decide what the users can access with their personal devices. As a part of the MDM initiative, you can have policies to let the users only access the approved content and also limit their ability to access unapproved websites. Additionally, it lets you keep track of the data consumption of individual devices and limit the user bandwidth to minimize bottlenecks in the business network.
Support for multiple devices
Realistically speaking, small businesses let people access the company email on their mobile phones, tablets, and notebooks simultaneously. With mobile device management, it is possible to support the entire mobile devices that your employees use if they are on the corporate network. This can enhance employee experiences to a considerable extent even as they use multiple devices for work. Moreover, MDM also enables the IT teams to manage the vulnerability of such an environment where multiple employees are using multiple devices, opening greater risks for the business.
Although you may consider mobile device management as an expense for your business, it actually ends up being a smart investment in the long run. Even as your employees use personal devices, you need not worry about your confidential data being at risk because MDM has everything covered. Spending on it, therefore, is a worthwhile decision for your business because the initiative drives productivity and innovation for your business.