The Bluetooth Hoverboard is one of the latest and greatest to come out as of yet. Not only does it have the newest features but it also contains a very special surprise for music lovers. Our 6.5 Inch Hoverboard comes attached with a very well-built speaker that you can use to play music while you ride. You can connect your phone to the machine through Bluetooth and using that connection you can play any music that you like, directly from the Hoverboard.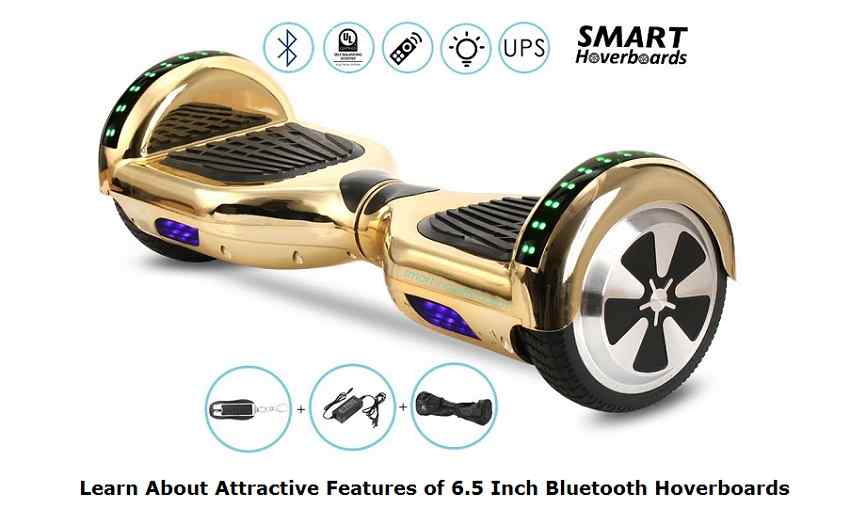 You don't have to worry about the sound quality either, the speakers that come installed in the machine are quite capable of playing any song well. Apart from this awesome feature, this model has some excellent other features as well. The motors and the tires are of particular note because in this model both have been upgraded for a smoother and quieter ride. The motor functions with less noise now ensuring that you'll have a peaceful ride whereas the tires have been upgraded from older models to ensure that they can get a grip on any surface and run smoothly wherever you may take your Hoverboard. This Hoverboard has also improved from previous models in terms of style. The wheel arches are where it is at now because they can now light up using in-built LED lights. Not only does that look really cool but it also keeps you safe when riding. The lights ensure that you'll always be seen so that the chances of an accident are brought down to a minimum. The LED light also makes sure that you can ride at night without having to carry anything extra to illuminate your path, the Hoverboard will do it for you. Other than these new features, you can also expect some of the older and reliable features to return.
The 6.5 Inch Hoverboard still carries a genuine Samsung battery in every model. The Lithium- Ion battery makes sure that the Hoverboard retains its charge for a long time while still being able to provide you with daily service. The user-friendliness and approachability are also still there, even with this new model.
Anyone over the age of four can take a ride on these Hoverboards and the small learning curve makes sure that you'll be riding like a pro in no time. So take your first step into the world of Hoverboard with the latest and greatest that they have to offer.
If you want to buy thrilling hoverboards, then you have come to the right place. Visit us today for more exciting offers & cheap hoverboards in UK.
Unique Types of Self-Balancing Boards
BlackHoverboards
Black Hoverboards would be the newest trend of generations. They would like to travel in their hoverboards. People are finding it a fantastic means of transport. Among the number of combinations, black is a popular choice when it comes to getting a hoverboard. People are crazy about buying a black Hoverboard, the reason behind this is that the dark color works with every skin tone, every body type, and is generally a safe alternative for a purchase–as even if demand for it ebbs, it never goes out of fashion.
Blue Hoverboard
Blue Hoverboards are popular among women, boys, and kids. Everyone is always appealed to by blue color. In this modern era, everybody would like to buy self, digital balance boards.
It is founded on technology simple to ride. It comprises two-foot and also two wheels pads that combine in the middle. Blue Hoverboards are colorful, personalized, attractive and user-friendly gadgets.
Galaxy Hoverboard
The galaxy hoverboard is one of the rarer ones which may be found now on the market. The hoverboard's nature comes from the design and color palette that issued in this hoverboard.
The hoverboard is made to represent the galaxy and it does only that. The plan of this hoverboard includes space and of the celestial bodies that you may discover inside. Around the hoverboard, you can all discover black holes, planets, stars, meteors, and a lot more. This makes this among those cooler and is an enormous reason why this hoverboard is constantly in demand.
Pink Hoverboard
Pink Hoverboards are small electronic boards that are terrific for kids, teens, and a person who are considering riding about on one of these traditional electric scooters. These will be the exceptional supply of entertainment because you're able to listen to your favorite music when riding, and due to the compact dimensions, it is possible to choose your hoverboard anywhere. Are you trying to find cheap pink hoverboards using the vibrant golden stylish combination?
This contemporary classic rose color hoverboard includes all appealing attributes like built-in Bluetooth speaker technologies, CE certified equilibrium planks, high-performance motherboards long battery life that everyone can ride for extended hours. LED star flashing wheel lights chrome pink hoverboards are only amazing, these colour changing LED lights to put in extra elegance to those pink equilibrium boards. It can be ridden by Folks safely in both indoor and outside like parks.
Gold Hoverboard
The Gold hoverboard is sold as a favourite for many people. The colour stands out nicely and is among the most usual favourite colours of people. You shouldn't just opt for the color though since the hoverboard includes a range of features and facilities that makes this product a must has for many people. The quality you ought to know about is. All you need to do in order to connect with all the speakers would be to turn to the Bluetooth on your cell phone. This way you can link your telephone to a Gold hoverboard and utilize it to play the songs that you would like. This way it's possible to take your music wherever you go.
This is not confined to just music, however. You are able to use the gold hoverboard to play audiobooks, podcasts, and even seminars. The second quality you need to know about is your engine and the corresponding tyres. The engine was worked to make it a lot better and was revised since older models. This motor allows for top speeds of up to 20 km/h without any difficulty. As well as making them excellent for many surfaces, the tires have been enhanced. The tyres are now able to take care of tile, carpet, and cement equally well. This decreases your chances of slipping, which makes them safe.