Bitcoin Cash is a very interesting cryptocurrency. It's a spin-off of the Bitcoin blockchain, and its high transaction throughput and low transaction fees make it an attractive cryptocurrency for people who want to make regular transactions with Bitcoin.
But, where's the best place to get your hands on some Bitcoin Cash? Here are the top 3 bitcoin exchanges to easily buy Bitcoin Cash with multiple payment options. There's a range of options for buyers with different geographical and financial requirements.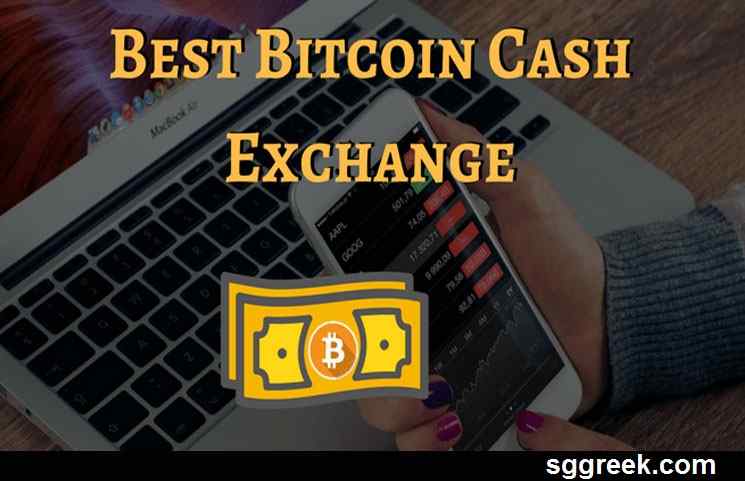 1. Coinbase
Coinbase is one of the most trusted brand names in all of cryptocurrency. It's a California-based cryptocurrency exchange that's trying to build the best and easiest entry point for beginners in the crypto sphere. That includes people who want to buy Bitcoin Cash.
What started as one of many cryptocurrency exchange startups, has turned into a business with over $1 Billion in revenue. It has been achieved by using clever marketing, getting on the right side of regulation, and building an exchange that's trusted across the world. Coinbase has a vision of building an "open financial system".
Coinbase allows you to buy Bitcoin Cash with all the easy options. Credit Card, Bank Transfer, and other options are available to different consumers in different parts of the world. You can also take your funds out to those same accounts when you want to cash-in on your cryptocurrency investments. Make sure this is possible with your bank and country before proceeding with the exchange (or any exchange for that matter).
Keep in mind that there is quite a heavy verification process. Coinbase is trying to be compliant with US laws for finance and trading. That means keeping a close eye on all customers and their identity information. If you're looking to buy Bitcoin Cash anonymously, check out option number 3 on this list. The process will require taking pictures and selfies with your government-issued ID. Not all countries around the world are accepted, so check this page to see if you're allowed to use the exchange in your area.
Coinbase also has a few other interesting product options for regular and enterprise cryptocurrency users. These include things like cryptocurrency storage.
2. CEX.IO
CEX.IO is another large, trusted exchange that's based across the Atlantic from Coinbase in London. You can buy Bitcoin, Bitcoin Cash, and many other popular cryptocurrencies.
CEX.IO also realized the value of a trusted brand name in cryptocurrency, and it has a long-standing commitment to protecting its user's funds. CEX.IO maintains one of the best security and hack records in the entire industry, with 0 funds being stolen. That's something to brag about in the dangerous world of cryptocurrency. The exchange is hoping to extend this record and reputation well into the future.
CEX.IO offers all the usual convenient buy-in options that beginner crypto users want, making it easy for beginners to buy in and cash out of their cryptocurrency easily and quickly. For more advanced Bitcoin Cash traders, it has a variety of trading tools to take advantage of.
CEX.IO has similar verification requirements to most of the big exchanges in the world. You'll need to send photos of your face alongside various payment cards and IDs. This is to comply with local regulations and international standards in finance and trading.
Another advantage of the CEX.IO exchange is that it maintains one of the best mobile apps in the business, making it easy for users to trade or check up on their investments on the go.
Overall, CEX.IO is a solid crypto exchange to get your hands on Bitcoin Cash and many other tokens.
3. Local Bitcoin
Local Bitcoin is also a cryptocurrency exchange but it differs from the platforms listed above. An important note: do not confuse it with LocalBitcoins (a peer-to-peer Bitcoin exchange). It's structured as a peer-to-peer cryptocurrency marketplace rather than a centralized exchange. If you can't  (or don't want to) use one of the other exchanges on this list to buy your Bitcoin Cash, Local Bitcoin is a worthy alternative.
What is a peer-to-peer exchange?  It is a platform, in our case Local Bitcoin, that operates very differently compared to many exchanges. To buy Bitcoin Cash there, you'll need to navigate the marketplace to find a seller that meets your requirements. After you find someone, you'll have to determine for yourself if the seller has a good reputation and how the deal will be done.
One advantage of using a peer-to-peer exchange like Local Bitcoin is the number of payment options is unlimited. You can buy with cold hard cash, bank transfer, or even trade your car for Bitcoin Cash. As long as you find someone to take the other end of the deal, you can trade.
Another advantage is that you can buy Bitcoin Cash in a completely private an anonymous way. This is one of the main reasons why buyers use this exchange and other platforms of a similar type.
The disadvantage of this exchange is that if you can't find a seller in your location, there's not much you can do. Also, there's a much higher risk to your funds when trading in a peer-to-peer way like this.
Always Stay Careful
No matter which of these cryptocurrency exchanges you choose, or even if you go with another exchange altogether, you need to be mindful of how you spend your funds. Cryptocurrency is still an unpredictable market where almost anything can happen. Exchanges, even big ones, sometimes have problems, and their customers sometimes pay the price.
Buying cryptocurrency is a high-risk activity. Choosing a top exchange like the ones on this list mitigate some of the risks, but you should always follow the cardinal rule of high-risk investing: only buy what you can afford to lose.
Follow that rule and stay vigilant, and you'll surely have success and fun investing in Bitcoin Cash and other cryptocurrencies.