Whether you want to launch a website for your business, or you are just doing it for fun's sake, it is an excellent strategy to do proper planning beforehand. Yup! That's right; proper planning can also help you if you're doing it for fun. Who knows you may end up creating the next big thing like Facebook or YouTube? Perhaps that's the reason why you're here. You're looking for a guideline for ensuring the most critical elements for launching your website. Well you're in luck! This post gives the absolute musts before starting a website.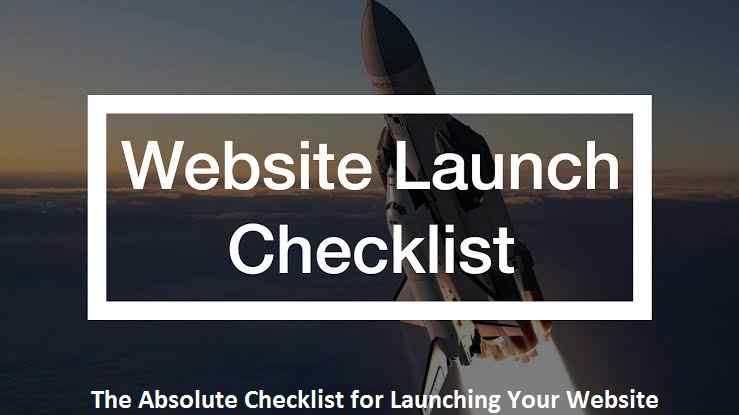 Don't Panic to Meet Your Launch Date
While a launch date is not only a good marketing tactic, it also serves as a target for you to push yourself. However, your objective should not be to launch your website on the deadline. It should be to launch a website that attracts attention and makes people come back. For that, you need proper planning and tools, without which it's just like throwing a dart in darkness. It will surely hit something, but will it be your target, who knows!
Choose a Web-Building Platform
While a website can be developed by using a simple text editor like Notepad as well, there are plenty of free and premium website-building platforms that make website-building a child's play. Some of the most popular web-building platforms include Wix, WordPress, Shopify, Weebly, and Squarespace. Each one of these has its benefits and style. One may offer you more flexibility of design; others may offer a plethora of design templates; while still another one will provide much functionality in the free version that others only offer in the premium. I suggest you should have a feel of each one's free version before deciding on getting a premium membership. Most websites can be developed with only the free versions.
Create a Compelling Web Design and Content
Websites that are esthetically good-looking retain first-time visitors for a lot longer than odd-looking and boring website designs. A beautiful design template with high-quality pictures can attract the user's attention. There are plenty of online paid and royalty-free HD images, and illustrations hosting websites where you download high-quality photos to be used in the background and as illustrations of your text content. A few useful names include Getty Images, Unsplash, and Shutterstock, etc. If you're wanting to have a professional-looking website created, then it would be ideal to look into the various web design Melbourne companies for your professional web design needs.
Another important aspect of your website's attractiveness is its content. If your site uses super-high-quality design and images, it might keep the visitors for a few minutes longer. If the website content is full of grammatical mistakes and is written in a non-professional manner; your visitor may think of your website as shaky and may quit, it soon. There is a powerful online proofing tool, with both premium and free membership options – Grammarly.
Make Use of Google Analytics and Other SEO tools
No matter how well designed and well planned your website is; if you don't have proper analytical tools integrated into your website you won't be able to gauge the success or failure of your website accurately. Also, you need a means of understanding your visitors' interest demographics to adjust your site to best match your target audience. There are plenty of SEO tools available to help you understand your customers and visitors better. But the most potent and thorough analysis is provided by the Google Analytics tools. It is a simple piece of coding that you place in your website HTML code, and Google will do the rest. You can find a vast collection of information about your visitors like country of origin, type of device used, type operating system, pages most visited, and traffic sources. All such information helps you improve your website for the better.
Choose Your Domain Name Wisely
A domain name is in ways like your place of business. Once chosen, changing the domain name may be a costly operation, not only in its implementation but also due to its negative impact on your business. You could get a domain name registered for free, but it may not be exactly how you want it – if you want more control over how it looks, you can buy a domain name online with your name and ending of choice.
One way to get a domain name registration for free is to sign up for a web hosting service provider. If you can't afford to manage your own server 24/7, you can get registered with a web hosting service provider. They may offer plenty of services, including domain name registration for free. Some web-hosting service providers provide you fixed bandwidth while others may offer flexible packages with bandwidth adjusting as your traffic grows larger.
Site Security Matters:
When you make a website then it is quite necessary to think of customers' security especially, when you are accepting payments online. SSL certificate is one of the ideal security protocols that encrypt the data transmission between the browser and the server. If you wish to get a cheap SSL certificate, then you can consider an SSL vendor like SSL2BUY and you will have a cheap SSL Certificate from SSL2BUY. The features you will get remain the same as your direct purchase from the certificate authority.
Finally, Let's start:
While this checklist is not 100% complete and there may be a thousand things that you may need to get the perfect website that you dreamed of. After going through this list and digging deeper on each point you might be ready to launch your own website. Also, using teamwork tools such as a project roadmap template or a knowledge base is a great way to ensure all stakeholders and teams are aligned on the development project. Try to find a process and a system that works for you and your team to create an awesome and functional website.