We've finally entered 2021 – the year of hope! And this year, thousands of techies are planning to launch their businesses as a part of their 2021 goal. Take the first step by giving your business a brand name followed by a website to match its purpose. 
In this regard, choosing the right web hosting company is vital. Let the website narrate your business episodes, as you would love to listen to them. Starting your website is not a cakewalk, so you must know the terms and techniques of website hosting. 
For example, should you go for shared hosting? How much bandwidth do you need? What about SSL? Which service provider to choose?
Today, we are reviewing Host IT Smart because of two significant reasons. People claim that they provide quality service at affordable prices. We've provided detailed information that includes analyzing their hosting plans, uptime, customer support, and overall performance. 
Let's check whether their services are ideal for your business or not!
Host IT Smart Customer Support
Host IT Smart has exceptional customer support that spans 24×7 and is second to none. Moreover, their customer executives are readily available through emails, live chat, and phone. We verified their customer service by initiating a live chat. We could get answers to all our queries regarding their service.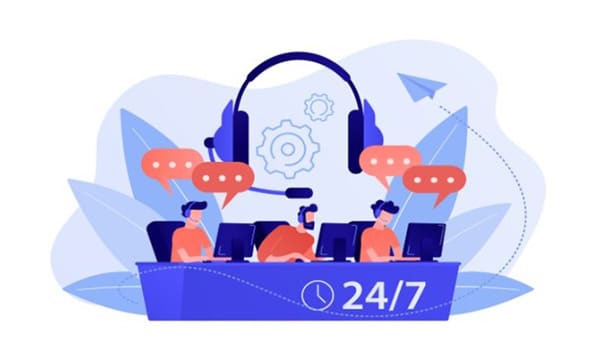 Talking about their technical staff, it seemed like they understood the requirements and had in-depth knowledge of the company's operations.
Host IT Smart Hosting Services
You will get myriads of hosting services while working with Host IT Smart. They provide services such as Shared Hosting, WordPress Hosting, VPS, and Cloud Hosting. Let's dive in and discuss the essential features and prices of Host IT Smart. 
Host IT Smart Hosting Plans and Features
Host IT Smart plans are budget-friendly and best suitable for beginners. The web hosting plans from Host IT Smart start at ₹80/month, which comprises a free SSL certificate.
If you opt for advanced hosting plans, you can have a free lifetime domain. Moreover, you can also avail an unlimited number of domains. The best part is; it has a 30 days money-back guarantee.
| | | | | | |
| --- | --- | --- | --- | --- | --- |
| Shared Hosting | Pricing | Free SSL | Webspace | Bandwidth | Website |
| Starter | Rs 80/mo |       ✔ | Unlimited | Unlimited | 1 |
| Performance | Rs 160/mo |       ✔ | Unlimited | Unlimited | 5 |
| Business | Rs 320/mo |       ✔ | Unlimited | Unlimited | Unlimited |
The AWS cloud platform powers the shared hosting plan of Host IT Smart.
Despite hosting a website in the AWS cloud is complex and expensive, but with Host IT Smart, you can get these services without much ado. Whether you're looking for customer support or business support, you can rely on Host IT Smart with an affordable pricing structure and with tons of technicalities. 
Host IT Smart WordPress Hosting Price
Host IT Smart offers an agile and cheap WordPress hosting solution that starts from ₹80/month. Besides being affordable, these plans have unlimited features to cater to the newly developed business. 
| | | | | | |
| --- | --- | --- | --- | --- | --- |
| WordPress Hosting | Pricing | Free SSL | Webspace | Bandwidth | Website |
| Starter | Rs 80/mo |       ✔ | Unlimited | Unlimited | 1 |
| Performance | Rs 160/mo |       ✔ | Unlimited | Unlimited | 10 |
| Business | Rs 320/mo |       ✔ | Unlimited | Unlimited | Unlimited |
Host IT Smart Reseller Hosting Features
Reseller hosting allows you to share your hosting accounts with your customers. With this facility, you can develop your hosting company, allowing your customers to use your hosting accounts.
Host IT Smart offers both Windows and Linux Reseller hosting services. Here are some outstanding features of Host IT Smart Reseller hosting;
Hosting setup at no cost

24/7 Support

cPanel / WHM 

Firewall Protection

Liberty to Tailor

Infrastructure and Security
The Linux Reseller Hosting can be a great option as it allows the users to manage all the aspects of their site more effectively, considering the tailored functions they provide to the users. In Windows Reseller hosting, you can purchase the Web hosting services at wholesale prices and sell them to the customers at a specific profit rate.
Host IT Smart VPS Hosting Pricing & Features
Mainly, Host IT Smart consists of 3 types of VPS hosting plans – Starter, Performance, and Business. The Starter plan starts with RS. 300/month with 20 GB HDD storage space, 2 GB RAM, and CentOS 7×64.  The Business VPS plan comes with 4vCPU Cores CPU, 8 GB RAM, 80 GB Disk Space, 3 TB Bandwidth, and 1 IP address.
| | |
| --- | --- |
| OpenVZ VPS Plans | KVM VPS Plans |
| Pricing: Rs 300/mo | Pricing: Rs 650/mo |
| Lightweight Container | Full Virtualization |
| Only Linux OS Support | Linux & Windows OS Support |
| 2GB – 8GB RAM | 2GB – 8GB RAM |
| 2 Core – 4 Core CPU | 2 Core – 4 Core CPU |
| 20GB – 120GB SSD RAID 10 | 20GB – 120GB SSD RAID 10 |
| 2 TB Bandwidth | 2 TB Bandwidth |
Host IT Smart Expert Reviews
We have undertaken a Host IT Smart review, which is wholly based on our web analysis. We were surprised to see many fantastic reviews on various popular websites such as Hostadvice and Trustpilot. The reviews seem authentic as it directly comes from actual users who are well acquainted with Host IT Smart's services.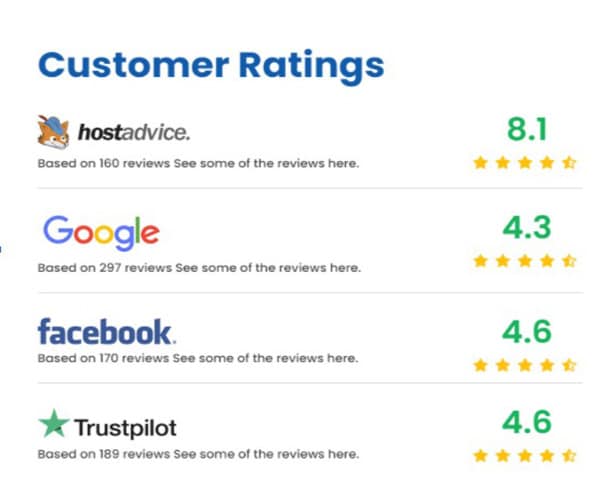 Do We Recommend Host IT Smart?
After much consideration, we recommend Host IT Smart as your hosting partner. We believe that they have more features to offer in their higher plans. Their basic plans are cheap; nevertheless, the provided features are quite scarce. We will recommend you to opt for Host IT Smart's top hosting plans to get better features at a lower price.