Employee monitoring has turned out to be the biggest concern for business persons around the world. Large and small-scale companies have been using software and apps to monitor their workforces. The prime objective to supervise workers is to boost their productivity by preventing them from unnecessary actions. The employee monitoring tools help you prevent your workers from workplace harassment, gossip and acts of malice. Employee productivity has a direct impact on the profitability of a business. If your workers are not giving their best to the organization, you cannot achieve your targets. The selection of efficient employee monitoring software matters a lot. In this article, we have discussed the best employee monitoring software in 2023 that is worth buying.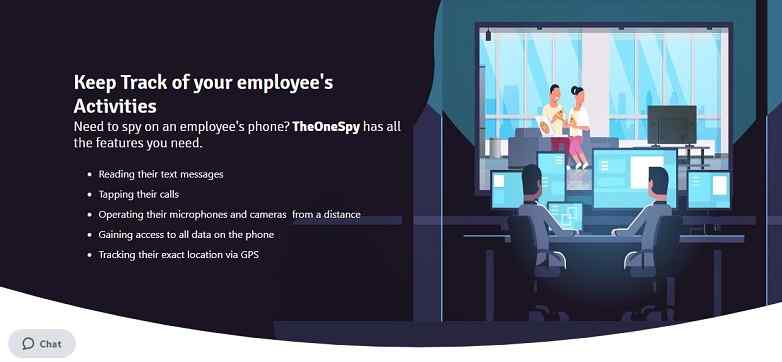 #1.TheOneSpy Employee Monitoring Software
TheOneSpy provides a complete tracking solution to employers enabling them to remotely supervise activities performed by employees inside and outside the workstation. The software is compatible with mobile phones and computers running Android, Windows and Mac operating systems. It offers a wide range of features including live screen recording, screenshots, keystroke logging and GPS location tracking. Moreover, it creates an online backup of emails, contacts, photos, videos, chats and data relevant to social apps and instant messengers. The software empowers employers to take control of company-owned devices and turn on cameras and microphones of these devices to witness and record surroundings. It is feature-rich, inexpensive and easy-to-use tracking software that can be a great choice for any large or medium-scale business organization for employee monitoring. You can also use application security services for Employee Monitoring.
#2.Teramind Employee Tracking Software
Teramind is one of the most user-friendly software for employee monitoring. The software enables employers to closely watch out the digital behavior of their workers to prevent them from unproductive acts. The software installed on the targeted digital machine records strokes applied to the keyboard. These strokes provide data relevant to online accounts operated on the device that also include passwords and usernames. Moreover, it offers on-screen recordings to capture whatever appears on the computer screen. The software offers a stealth and revealed mode enabling employers to keep an eye on their workers' digital activities secretly or openly.
#3.ActivTrak Employee Tracking Software
ActivTrak is one of the most trusted tracking software for employees. It offers a wide range of features enabling employers to track and manage the productivity of working staff. It allows capturing real-time computer activities with the help of on-demand screenshots. Moreover, it provides app monitoring, two-factor authentication, important data redaction, automated alerts and features related to user privacy. The software works like Google Analytics and comes with an analytics keyboard. It does not offer keystroke logging and OCR for keyword searches.
#4.InterGuard Employee Tracking Software
InterGuard is feature-rich monitoring software that enables employers to keep an eye on their workers from every angle. The computer activities of employees can be tracked with the help of screenshots. The end-user of the software can send remote commands to monitored company-owned digital devices to capture activities performed by suspicious employees in real or scheduled time. The mobile app of InterGuard allows supervising social media chats of employees by tracking popular social messengers. It also provides access to incoming and outgoing messages of employees exchanged via monitored cell phones. Moreover, the software allows tracking files, keystrokes and Geo-location. It also allows managing the internet usage of workers and restricts them from visiting unproductive websites. It offers keyword alerts to notify the employer about any forbidden digital act performed by workers.
#5.VeriClock Employee Monitoring Software
Many business organizations have been using VeriClock to monitor and manage the productivity of their employees. It is easy to use and understand even for non-tech-savvy employers. The software offers robust monitoring features at a very reasonable price. VeriClock is more of a time management software that enables businesses to keep tabs on workers' activities during working hours. However, there are certain limitations regarding the use of this time management software. It does not allow scheduling future time. The stopwatch does not show seconds. The storage capacity of the software is limited to up to 1GB. Though, many features are missing it is a solid employee monitoring solution with a user-friendly interface and affordable price.
Hope this article would help you pick up the best employee monitoring software in 2023. Keep visiting us for more information regarding software and applications.