What is graphic recording?
We can define graphic recording as the translation of conversations into pictorial form with images and texts on large sheets of paper during meetings or events. If you are an evaluator, you can go for graphic recording to capture the collective stories and visually represent the conversations during the entire evaluation process.
It could also involve discussions with stakeholders while conducting a need analysis, creating a theory of change, during stakeholder feedback, and stuff like that.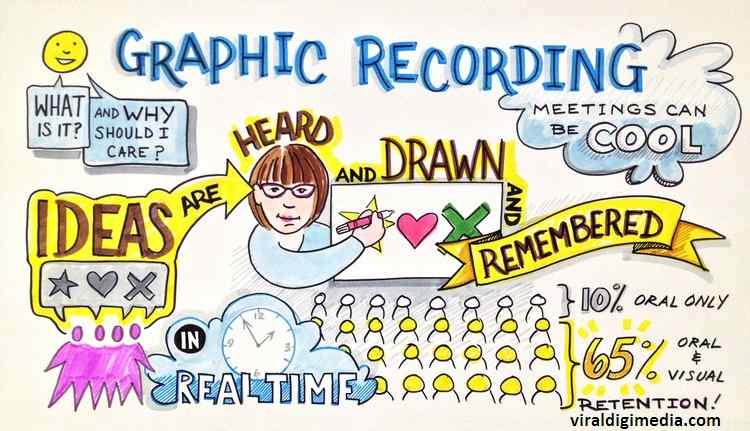 We can also say that graphic recording can be seen as both a process and a product. When you hire an expert graphic recorder, he employs graphics to lead the group process in a more engaging and creative manner. However, to do so, a graphics recorder needs to have interpersonal competence, superb listening skills, and the power to think quickly.
Difference between a graphic recorder and a graphic facilitator
Graphic recording is used to denote visual note-taking during a meeting on large-scale paper or a foam core, or any digital tablet. The graphic recorder listens to the presenter and syncs the ideas into a visual format for a better understanding of the audience. We can say that graphic recording is a bit more passive than graphic facilitation and mainly focuses on illustrating the ideas in a more presentable way to the audience.
Graphic facilitation, on the other hand, requires the same skill set as graphic recording but it also uses visuals to lead a meeting. The graphic facilitators generally take the help of flipcharts, whiteboards, foam core boards, or large sheets of paper. A graphic facilitator takes the responsibilities of cultivating the agenda, managing the timings, and guiding the discussions. It is more about generating ideas rather than just collecting data.
How to choose the right graphic recorder?
While hiring a graphic recorder, you need to keep certain things in mind. After all, your next important meeting will be at stake. Here are some important things that you should consider before picking a graphic recorder.
When you are looking for a graphic recorder, try finding one with specific experience in your industry. This will make a huge difference in their understanding of your concepts to be discussed in the meeting and their ability to present them appropriately.
For instance, if you belong to the healthcare sector, look for graphics recorders with experience in patient journey mapping, system mapping, and strategic planning. A less experienced graphic recorder can be the right fit for you when you need straightforward graphic recording.
While choosing a graphic recorder, you need to consider various aspects. One of the aspects is the services offered by the graphic recorder. You need to ask the graphic recorder if he offers full services including animations, infographics, or any other visual representation services.
If they do so, you have a better chance of a more appealing graphic recording session during your next meeting. All the graphic recorders have a different approach to working – some need a bit of time to prepare for the meeting and some show up on the session day. It's better to ask them what is their work approach and see if it fits your needs.
A graphic recorder with a fun-loving personality would be the right match for a conference where you need to gain attendees' ideas and represent them in one single frame. A person who is outgoing will have the needed skills to engage with your people and compel them to come up with ideas and suggestions.
Also, look for a graphic recorder who is professional in the way he works and approaches your presentation. He has to be transparent about how he would be the right fit for your complex meeting.
You must ask for all the charges from the graphic recorder during your consultation. The charges for different kinds of visual representations, duration of the session, and other similar aspects.
Outlining the description of the services, date and times, and duration of the sessions, fees, and expected deliverables should be mentioned in the contracts.
Remember these 3 best practices
Once you have hired a graphic recorder, you are all set to rock your next presentation. Here are some of the best practices that you must follow to make your event a huge success and get the maximum possible engagement from your audience.
You can schedule a pre-event briefing and agenda review meeting with the graphic recorder to make him understand your requirements and expectations. You can talk to the concerned person about your company, events, objectives, and goals behind choosing graphic recording.
You also need to choose a method to communicate with the graphic recorder during the meeting to make sure he conveys exactly what you are saying.
Don't forget to take care of this important point before the actual meeting or presentation. It is extremely important that you get your tech setup checked at least a week before the event, and also on the day of the event.
There are various methods through which graphic recordings can be shared, and you can pick up whichever one you feel is the best fit for your organization. For instance, you can choose the illustration to be live-streamed, screen shared at regular intervals, or sent to the attendees once the event has concluded.
Don't forget to introduce the graphic recorder before the meeting starts. When you forget to introduce them, they become a distraction to the attendees. Try to be open and let ideas flow in as and when they come during the meet.
To sum up…
Now that you know what a graphic recorder is and how it can be great for your event, why don't you look for one for your next meeting? You are surely going to love the outcome of the meeting and the response you got from the attendees. Just make sure, you don't forget to consider the above-mentioned points before hiring a graphic recorder.