COVID-19 changed the way businesses do business. Before you could have a successful business without a website or even listings on Yelp or Google. All you needed was a good location and a great product for customers to come in. On March 2020, COVID-19 changed everything and businesses were forced to bring their businesses online. With fewer people driving during this time if you wanted your businesses to succeed you needed to have an online presence. A website gave customers a way to view your business from home. Because of this, there has been an influx of websites not only rebuilding their current website but also creating their first website. There are over a billion websites on the internet and most of them are failing. But why? In this post, we will discuss why most websites fail.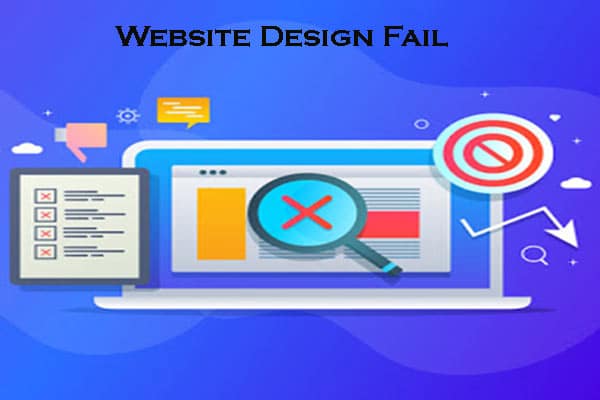 Bad Content
In 2021, if you want your website to rank you need great content. The question is: what is great content for a website? A website must have information that relates to what the user is looking for. That means at least 600 words on a page, images, or a high-quality video. The problem I see today is that most websites have one or two sentences on each of their web pages and this isn't helpful for the user. This gives them a reason to leave your website quickly. Remember, each webpage is crawled by Google and the more content you have, the higher chance you have of it ending up in someone else's search result.
Not User Friendly
Sadly, there are still websites today that are not mobile-friendly. Tons of old-school websites simply do not work on a phone because of the way it was built years ago. A "good" website 20 years ago is not "good" today; even more, a website 5 years ago isn't "good" today. Back then, having flashy colors and pop-ups made your website look cool and professional. Unfortunately, now website features like those are annoying and make a user want to leave.
No HTML Organization
The next reason why most websites fail is that their content isn't organized in the proper tags. Unfortunately, most business owners are aware of this because it is seen in the HTML code. As business owners, they are supposed to run their business and not learn how to build a website and this is why they hire a web design agency like Cultr Media. When creating a page you want to have a title and description. The page title is a word or short phrase that explains the topic of the page and the description is a couple of words that describe what is on the page. A lot of people forget to include a description because either they are too lazy or their website builder doesn't have SEO functionality. Next are HTML tags such as H1, H2, paragraph, and meta. The H1 tag is the headline of what you will be discussing on the page. For example, if History is your title then your H1 tag could be American History. It is important to have one H1 tag and if you have a sub-headline to name it as an H2 tag. The words you will use to describe the content will be paragraph tags and your meta tags will be used to describe any images on your page. Now you may be asking: where can I set these HTML tags? A good website builder should give you the ability to edit your on-page SEO, but if there isn't one you will need to learn HTML code.
Low Page Speed
Everyone knows how important a fast website is, but a lot of people do not understand what makes a fast website. The problem usually happens during the website building process. Most business owners fall into the problem of wanting to add too much to their websites. For example, on the homepage, they want to add a lot of pictures, a video, music, special effects, etc. Unfortunately, the more things you add the more your website the longer it takes for your website to load. It is best practice to not only limit what you add to your website but also compress media files. For instance, you can compress a 1 MB picture to under 100 KB. Doing a combination of little things like this helps make your website load faster. You can visit WordPress videos for your website tips.
Trusting Your Website Designer
When picking a website designer it is important to pick someone that not only knows how to build a website but also explains to you their process. Your job is to run your business and not build a website, but that does not stop website designers from taking advantage of small businesses. For example, you probably do not know what H1 tags are or that you need 600 words on a webpage and it is their job to at least mention this to you.
Conclusion
The days of not needing a website to survive as a business are gone – COVID-19 taught us that. With that being said, it is important to pick a website designer that not only knows how to build a website but also is transparent in how they are building it. And if they are not explaining their website building process then it might be time you start researching how to build a website.