Flea markets are markets in which they sell second-hand items at a lower price by vendors who are looking to make money from their items. The vendors are allowed to book a stall or booth which is rented to them for a certain fee. The amount of money a seller gets from their items depends on several factors such as their competitiveness and their bargaining skills. The types of items a vendor brings to the market also determine the buyers they attract. Different items have different demands at different times and vendors who know how to follow trends benefit the most. Become a flea market vendor is easy and involves a few flea vendor market application steps and basic setup steps. Below are some of the steps and guides to joining a flea vendor market?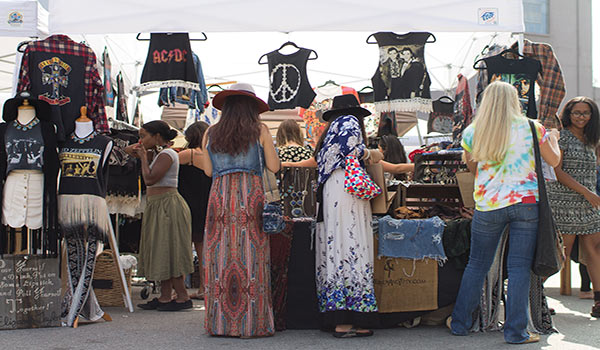 Location of a flea market of interest.
Most flea markets are located in remote areas. The first thing a vendor should do is locate a flea market of interest that is located around their local area. The vendor can find a suitable market by searching on flea market directory websites and locating the popular flea markets around them. The next step is to find more about the markets and decide on which one they would want to sell on. The vendor can then visit the market physically and check on the factors below.
Types of products sold by others.
Booth setups
Number of vendors
Customer traffic
The type of booths that attract most people.
General market appearance and environment
The vendor then settles on a flea market that favored their requirements. Most vendors prefer markets with no customer traffic and with fewer vendors hence minimal competition among the sellers. Some of the things a vendor should consider before choosing a flea market are the size and price charges for a booth, customer traffic, the number of vendors, the distance from where they live, and the type of market i.e. open-air or indoor market.
Find products to sell.
Vendors in flea markets avoid spending large amounts of money on inventories for items they are taking to the market. They should know how to get hold of various good at cheaper prices and from around their local area. Obtaining goods from around can be challenging however and a vendor should have some tips on how to find items. One way of finding items is by asking around especially from family and friends. They can also talk to local artists and crafters around to allow them to sell their items too. Auctions done locally are also a suitable place to get items that are of value and lastly, garage and yard sales in the local area residents.
Legalize the flea market business.
 The business requires that a vendor has legal documents before they can engage in any transactions. The vendor is expected to have a sales tax index id and business licenses. Most flea market owners direct vendors on how to obtain the required documents and what licenses they are to have.
Begin selling the items.
Once a seller pays the booth rental fee, they can set up their items and start selling them. For flea markets that do not provide sellers with a booth, the vendor can bring their own, set it up and arrange their items in readiness for selling.
Additionally, vendors are not only required to get a location and licenses for selling, but they are also expected to be aware of what state laws govern the sale of items in a flea market. The laws vary from one state to another. Some permits and certificates are needed to have. The laws governing selling items at flea markets are enforced by the local county and municipality. For vendors who plan on selling items frequently, they should obtain several licenses and permits. This ensures that they are always in compliance with any laws and regulations. If the vendor acquires the goods from a different state than the one, they sell in, they should have two business licenses. They should also have a resale certificate that will allow them to purchase and sell items without having to always pay for sales tax otherwise they are required to pay sales tax to revenue agencies.
Every flea market also has its policies governing the sale of items. Before selecting a booth and paying, it is good to find out about the specifications of the market. Some flea markets have specific types of items allowed to be sold on specific days and special dates. Others also have events on certain days. Flea market owners may also have certain standards on how a booth should be arranged and some even prefer to pay sales tax to the authorities on their own after collecting from vendors.
Finally, other than laws, regulations, and flea market policies, a vendor should always be keen on what type of business they are going to have. Some may need to have receipts and proofs of purchasing the items especially those planning to do wholesale or dealer type of sales. Some restrictions aim to avoid sell of stolen items and once in a while, law enforcement officers visit and interrogate vendors randomly. Every merchandise sold in flea markets has to be acquired legally.