Cryptocurrencies are becoming more popular each day, with Bitcoin being the most famous and valuable among them.
Even in times of crisis, Bitcoin has shown maturity and stability as an investment asset. So it's not surprising that there's an increased interest among the general public for investment.
And if you thought that the process of buying Bitcoin might be complicated and has put you off from entering the market, you're in luck!
In this article, we will go through the few simple steps you need to take to buy Bitcoin with Bank Account.
Let's get started!
Create your Bitcoin wallet
For your purchase of Bitcoin with bank account, we will be using a popular cryptocurrency exchange, Paybis. They offer a beginner-friendly interface, quick and reliable transactions, and a friendly and responsive customer support service.
But before you proceed to your purchase, you need to understand something about BTC. Unlike traditional money, cryptocurrencies like Bitcoin exist only in electronic form. This means you will need a special kind of storage, a cryptocurrency wallet, before you can use and own your first Bitcoin.
In case you don't have a wallet, here's a list of the different types you can choose from and their pros and cons. It will help you decide which one is best suited for your needs:
Mobile wallet – these mobile apps turn your smartphone into your portable crypto wallet. They are very convenient for daily use but aren't suited for storing large amounts of crypto as mobile phones can be easily compromised. We recommend Atomic Wallet.
Desktop wallets – similar to mobile wallets, these software solutions transform your PC into a crypto vault. They are more secure than their mobile counterpart but less convenient. Atomic Wallet also offers a desktop version of their wallet, which can be paired with the mobile app.
Hardware wallets – these specialized USB-like devices are the top of the line when it comes to securing your cryptocurrencies. They keep your sensitive data offline, away from hackers, and are small and convenient for transport. Our preferred models are the Trezor Model T or the Ledger Nano S.
Once you have set up your Bitcoin wallet, you're good to go. Let's proceed.
Register on Paybis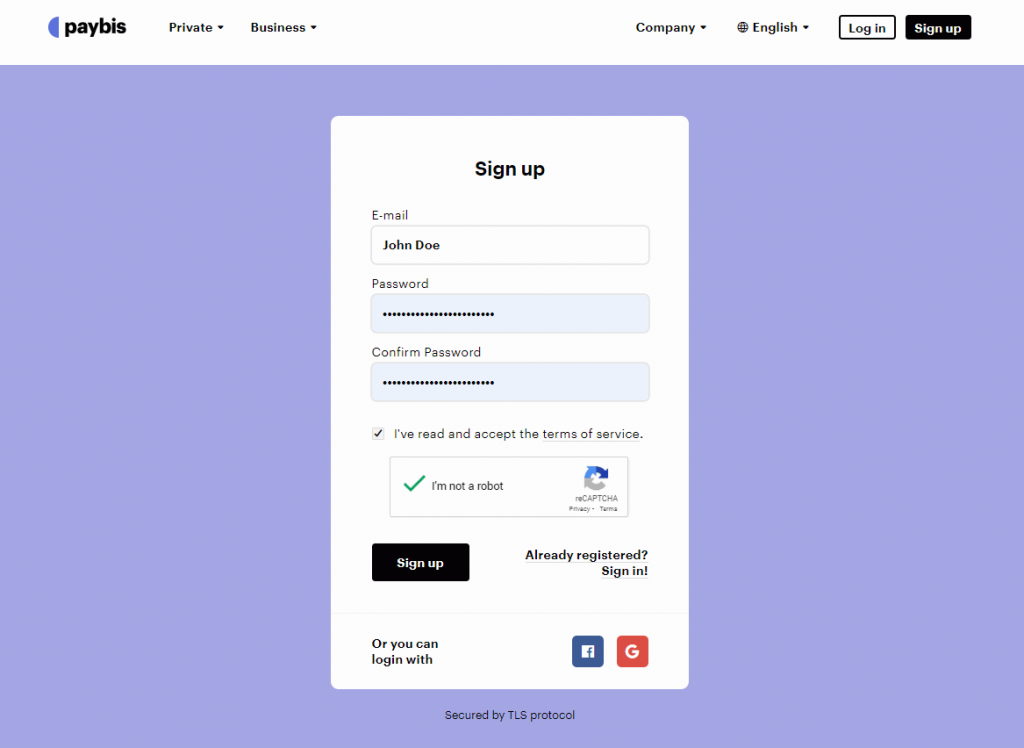 Before you can begin your transaction, you will need to register an account on Paybis. Enter your credentials and proceed to the next step.
Begin Transaction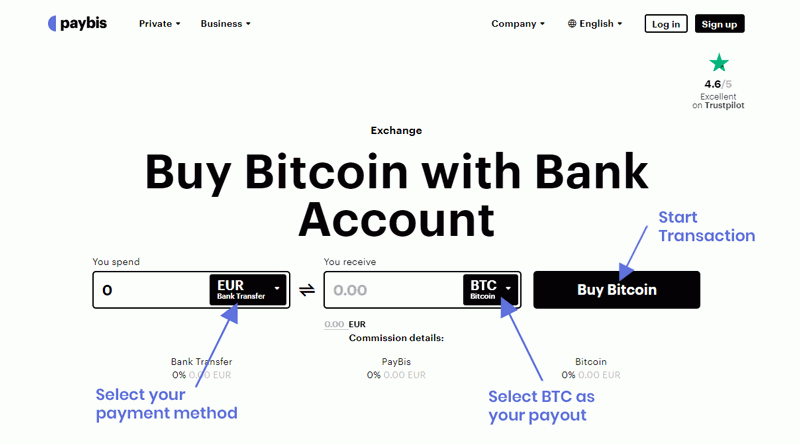 Once you've logged into your new account, you can start your transaction. First, you will need to select the trading pair.
Click on the left drop-down menu and select the "Bank Transfer" payment method. Make sure you select the native currency of your bank account (EUR or USD).
Click on the right drop-down menu and select BTC as your payout method.
You can now use either box to enter the amount you wish to purchase. The system will calculate the fees in real-time, so they are no surprises at the end of the transaction.
Click on "Buy Bitcoin" to start this new transaction once you are happy with your choice.
Verify Your Account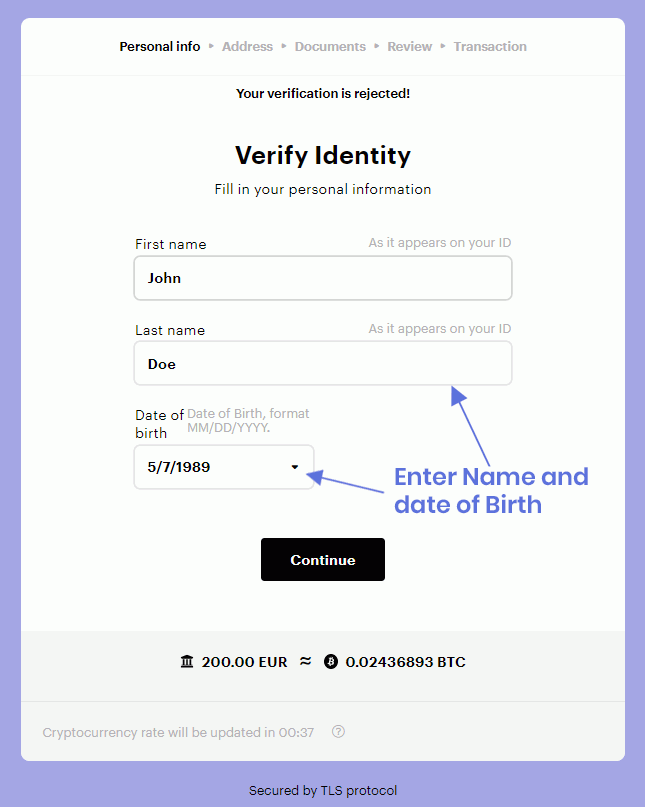 Once you have started the transaction, you will be prompted to verify your account.
Simply enter your Name, Surname, and date of birth, exactly as they appear on the ID document you will be using for the verification. Click "Continue"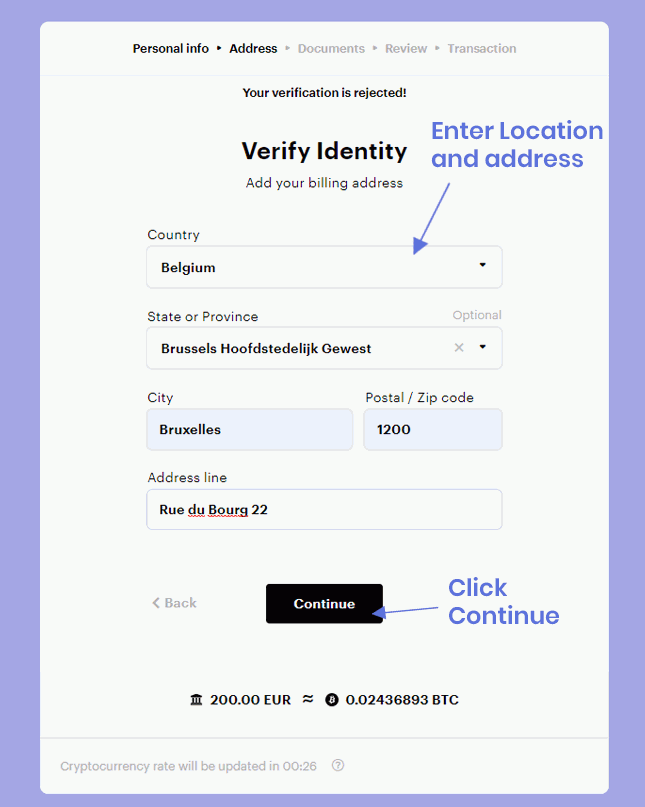 Next, proceed to provide your location and address. Once done, click on "Continue" to proceed.
The final step of the verification process will ask you to submit a picture of your ID. In the drop-down menu, select which document type you want to use and upload the picture.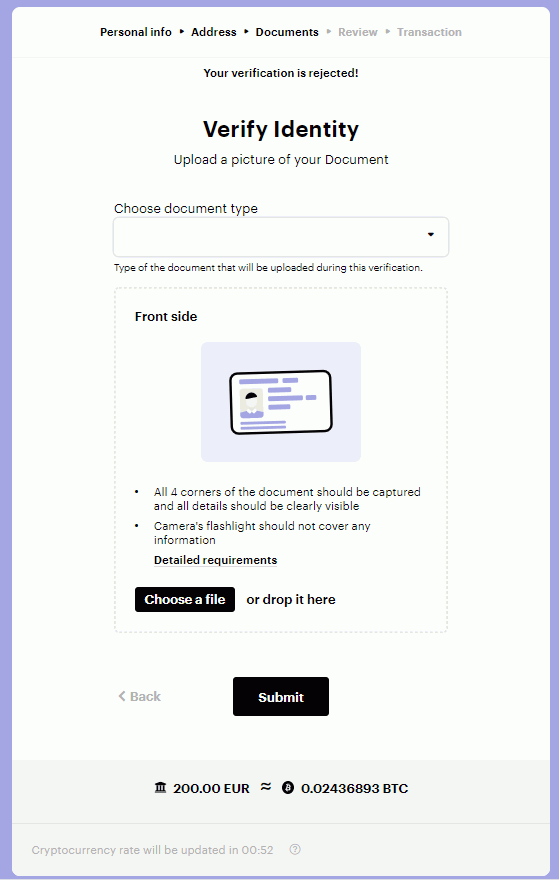 A legible, good quality picture will ensure your verification process goes smoothly. Once your file is uploaded, click on "Submit" to proceed.
In this instance, you will need to be patient for the Paybis team to check your credentials and verify if you are eligible for the transaction you have selected.
Proceed with your Payment
Once you have been verified, you will be prompted that the process has been successful. If the procedure is taking too long, check your email in case there was an issue that needs addressing.
Enter your Bitcoin address and continue to the payment page.
There, enter your banking details and follow the instructions on your screen to proceed with the payment.
Receive your Bitcoin
Once your payment has been processed, and the transfer confirmed by Paybis, they will send your Bitcoin directly to your wallet. Just keep in mind that processing times vary between 1-5 business days, but are usually completed within 24 hours.
If the transfer takes longer than expected, feel free to contact their customer support anytime, as they are reachable 24/7 through live chat or email.
Objectively, using Paybis is one of the best ways to buy Bitcoin with Bank account. Hopefully, this guide will help you enter the financial revolution that crypto has brought to the world.