When it comes to cryptocurrency, everyone has a different opinion about it. Some people think cryptocurrency is the future of finance and could leave banks obsolete, and others think that it's just a commodity that will eventually lose its value.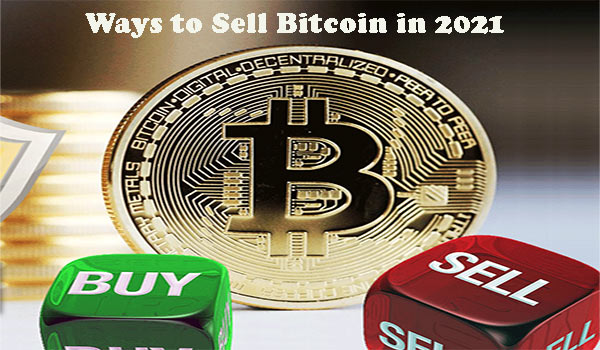 In case you didn't already know, Bitcoin is the first and the biggest of the cryptocurrencies on the market. When it started back in 2009, one Bitcoin was worth only a few cents, fast forward to 2021 and one bitcoin is worth more than $45,000 and continuing to increase in value every day. While there are plenty of skeptics and traditionalists that still don't want to believe cryptocurrency is here to stay, the numbers suggest otherwise. People who were sleeping on it have started to wake up, and the $1 trillion market cap of bitcoin is clear proof of that.
If you were savvy enough to be ahead of the curve and purchased Bitcoin during its lull period a few months back, then you made an excellent move as the value has skyrocketed since June 2020 and is still looking bullish. However, if you think you entered the trade at a low price and want to unload your Bitcoins, then you have come to the right place. This article addresses some ways to sell Bitcoin safely and securely.
What's the Selling Process for Bitcoin?
Selling Bitcoin is actually easier than you may think. As long as your Bitcoin is held in a secure wallet, you'll be able to sell it without encountering too many hurdles along the way.
By far, the most popular way of selling Bitcoin is via a cryptocurrency exchange. There are plenty of platforms that offer this service, and you can use any of them to securely sell your Bitcoin. We recommend these trusted cryptocurrency exchanges that are ranked by 24hr trading volume:
Binance
Coinbase Pro
Huobi Global
Kraken
If you're in Australia, you don't necessarily have to engage exchanges as you can easily sell or buy Bitcoin with a credit card in Australia. However, if you want to sell it through cryptocurrency exchanges, you can sell it in the following ways:
Credit Card Payment
The most convenient way of selling your Bitcoin is to do so using your credit card. With the rise in cryptocurrency adoption, exchanges have started to accept credit cards for Bitcoin transactions. You are able to instantly sell Bitcoin with your credit card, use it for any kind of transaction you like or even transfer it into your bank account.
Exchanges like Cex.io and Binance allow you to sell your Bitcoin directly via Mastercard.
PayPal Payment
Who doesn't love PayPal? It streamlines the payment process for online shopping and makes life much easier. Unfortunately PayPal doesn't accept Bitcoin directly because they cannot offer their customers any security on digital currencies. However, there are still ways in which you can sell your Bitcoin and receive money through your PayPal account.
You can do this by signing up to Coinbase and selling your Bitcoin there. Once you have sold your Bitcoin on this exchange, you will be able to convert it into money that you can receive through PayPal. Coinbase is only available in Europe, the UK, and the US and only works for selling Bitcoin, not buying it.
Selling Bitcoin for Cash
Bitcoin ATMs
Yes, you heard it right; Bitcoin ATMs are a thing now. You won't be able to withdraw all your Bitcoins through these ATMs as they have a limit, but it's a great way of converting your Bitcoin into cash when you need it most. However, finding a Bitcoin ATM is like finding a needle in a haystack, it could take you a long time and it may not end up being worth it in the end.
P2P Transfer
P2P transfer technically transfers the amount in your bank account, but you can withdraw cash from any ATM as soon as it has been transferred into your account. For P2P trading, you can use an exchange like Binance or Paxful as escrow, enabling you to safely sell your Bitcoin. You can initiate a trade on the exchange and can transfer your Bitcoin to the buyer as soon as you have received cash in your bank account. P2P is quite secure as long as you're engaging a trusted exchange like Binance.