Optical diffusers can be regarded as thin filters whose main function is to homogenize the radiance from an input beam. They are very often used in conjunction with light sources as they can turn the natural emission pattern of the source into another pattern. In many cases of interest in illumination, the output pattern is such that it resembles a Lambertian emitter.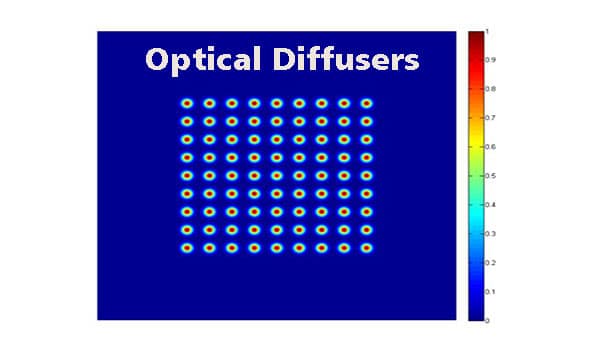 With the advent of diffractive optics, a new type of optical diffusers is becoming widespread. This new type of optical diffuser is also referred to as beam homogenizer and they can be an integral part of a laser system. The type of applications for optical diffusers based on diffractive optics is not limited to illumination systems. They can be used in all sorts of applications in which the input beam needs to be transformed into a radiance pattern that suits a specific requirement.
Thus, using diffractive optics techniques, a beam diffuser or beam homogenizer can be designed to produce a uniform irradiance in a very well bounded area. In addition, the lit area can be rectangular or square or any other geometrical or freeform shape. This added capability makes optical diffusers based on diffractive optics a very attractive component in laser beam delivery systems in which a Gaussian radiance, which is inherent to many commercial laser systems, can be detrimental. Some examples of these cases are laser ablation or laser drilling in which no light should be creeping outside the treated area. A similar situation arises in laser systems used for aesthetic treatments.
When an optical diffuser is used with highly coherent laser sources the irradiance pattern can exhibit a speckle pattern on an otherwise uniform illumination. This speckle pattern can be avoided using a top-hat beam shaper. if the input source is a multi-mode laser beam, there will be a significant reduction of the speckle pattern. This effect stems from the fact that each mode present in the laser beam produces an independent speckle pattern and their combined effect is to average out the overall speckle pattern.
There is another type of optical diffuser which is not based on diffraction. This other type of diffuser, named broadband diffuser, is composed of a structure similar to a micro lens array only that each lenslet in the array can have a different curvature. This extra degree of freedom allows the possibility of altering the output beam in many more ways than what would be possible with a regular lenslet array. Furthermore, as the name implies a broadband diffuser can operate on a wide spectral range.