Online assessment platforms have made it possible to evaluate candidates located anywhere in the globe. With an internet connection and a computer, you can attend any given examination from the comfort of your home.
The platforms have dozens of useful features. Learn more here on the features. If your school is investing in such a platform, then you must make full use of it. In this article, learn things you must utilize to get a higher ROI.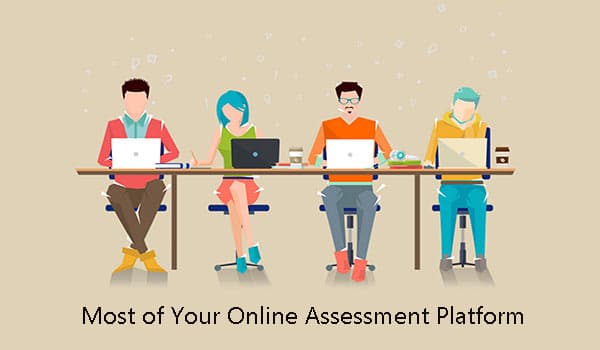 Use Premade Question Sets
There are two types of assessment platforms. One allows you to create tests from scratch, and the second can be exam-specific. The difference is the speed with which you can create exam sets for assessing candidates.
For example, if you're using a generic assessment platform, you'd have to create the exam sets from scratch. You need to input every single question (and answer for MCQ and objective questions) into the platform. It is going to take up time.
But if you invest in an exam-specific assessment platform, you can create the questionnaire in about half the time.
So it's always recommended to invest in exam-specific assessment platforms if you're conducting a particular exam year after year.
Understand Personality and Behavior
Online assessment platforms allow you to look beyond qualifications and test performance. You can review psychometric data to look for personality traits. It may help you find the best candidates.
The personality traits can be roughly divided into four types:
Positive personality trait
Dark personality trait
Motivation
Value
With an online assessment platform, you can conceptualize tests to uncover the personality trait of a candidate.
Therefore, besides the regular tests, you should also conduct psychometric tests wherever possible to better filter the candidates.
Automate Scoring for Quick Evaluation
Established exam centers and invigilators would know the pain of going through the answer papers and evaluate each one of them.
But it becomes much easier in the online format. The assessment platforms are capable of evaluating results and scoring each candidate accordingly. Especially in MCQ or objective questions format, automate scoring is an essential feature which you should exploit.
Not only is the process, but it's also accurate. With manual evaluation, teachers may end up awarding marks to incorrect answers. The assessment platforms don't make such errors. It'd help you maintain fairness.
Integrate with LMS
You can get the most out of assessment platforms by integrating them with LMS or the Learning Management System.
This way, you can evaluate and track progress at the same time. By looking at the assessment results, you offer a personalized learning experience to each candidate. It will help the students who need special attention for their development.
Most online assessment platforms can integrate with LMS using tools like Zapier. But you'd need some technical skills to combine the two.
Award Medals and Certificates to Top Performers
Finally, reward the top performs with awards, medals, or certificates. It will increase engagement within the students taking the exams online. It will also motivate them to put in more effort and score even better. If you haven't been using this feature yet, it's high time you do.
Online assessment is the future of evaluating candidates. You can assess applicants from anywhere in the world. Use the points mentioned above to get the most out of your online assessment platform. Learn more here for information on the ICAS assessment platform.