Call Voice Changer- IntCall
This voice changing app is known for its simplicity and aesthetically pleasing design. With its easy to use functions, it's the right choice for any prank caller wishing to change the way they sound.
This voice changer ensures you are completely hidden from being recognized over the phone.
It cannot change your voice into different characters, unlike similar apps, but it can adjust the pitch of your voice.
The four options available are lowest, low, high and highest. It will still be your speaking voice but just with a high or low pitch.
You can also spice up a prank call by including background sound effects that can be played in real-time. These include sirens, elephant, laugh, a dog barking and a few others.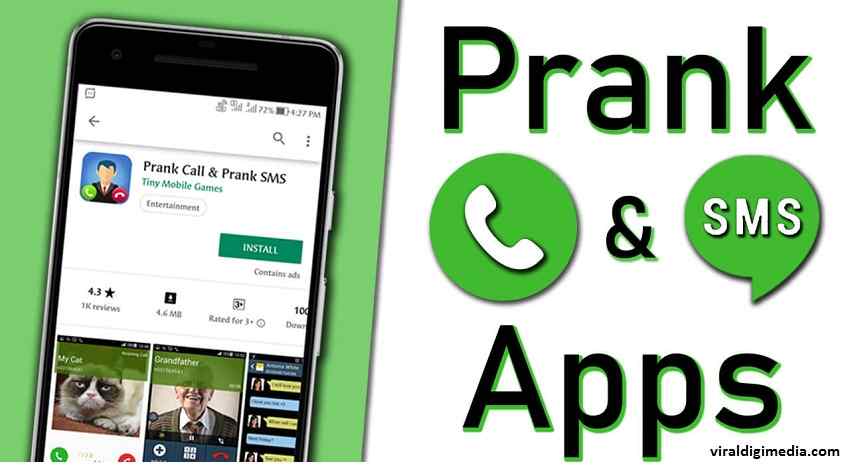 Unlike other similar apps that require that you record yourself first then apply the sound modifications, Call Voice changer has a demo call function. This lets you make a test call so you can hear exactly how you sound.
Additional Features
Free credits: 2 weeks after installation users are given free minutes to test the app.
A stable internet connection is required as the app uses VOIP.
Call Voice Changer Allalog- Prank Calls
Take your prank calling to the next level by changing your voice during a call. A variety of unique background sound effects are also included if you're in the mood for theatrics.
This app offers a few more voice alternatives than Call Voice Changer- IntCall while also containing low to high pitch options. These include popular Star Wars villain Darth Vader and other characters such as Extra-Terrestrial, Chipmunk, Man or Woman and many more.
While it provides excellent sound calling quality during a prank call a standout feature that is its voice transformation function.
During a live call, you can switch to any voice or sound effects in real-time. Transitioning to different voices will give the impression that numerous personalities are on the line.
Additional features
Wifi is not required as it can be used with a mobile internet connection
Preview your voice by hearing how you sound beforehand
Free Calls: Users gets 1 minute for free. Thanks to their sponsor, you can also win extra free minutes.
Also Read: Streaming Sites & Apps to Watch Live Cricket Online
Ownage Pranks
Ownage Pranks is a youtube channel created by Russel Johnson which has over 5 million subscribers, their content delivers the funniest prank calls on the internet.
While they have continued to deliver the best prank calls year after year, their app is more entertaining because you will be the one who chooses the victim and makes the call.
The Ownage Pranks app has over 100 automated pre-recordings containing different prank scripts. These pre-recordings are automatically sent once the phone call begins making your victim believe its just another person on the line.
A few examples of Prank scenarios include 'Cat Facts', 'Embarrassing Pharmacy Order' and 'Hotdog Complaint'.
If you have a specific idea in mind, all prank scripts are categorized under different genre headings. Feel like pranking your boss or your girlfriend? Then take a look in the 'Jobs & Workplace' and 'Dating & Love' sections to find what you're looking for.
With new ones added daily, prank material is fresh and always original.
Ownage Pranks also have an AI that can recognize specific words and even detect silence, the official term being 'Speech recognition technology'. During the conversation, responses are delivered at the right times, enhancing the realism of the pre-recording.
Additional features 
Characters from the youtube channel such as Tyrone and Buk Lau are featured in pre-recordings
Calls are recorded and can be sent to the Pranks hall of fame
Receive 3 free credits daily 
Also Read: Alternative Sites like Rainierland Watch Movies Online
Fake Call Plus
Fake Call Plus is perhaps the most versatile app on our list due to the many uses it can have in everyday life.
Stuck in a boring meeting and wish to be anywhere else? Organize a fake call to yourself and pretend there's an emergency allowing you to leave.
Want to have fun by tricking mom and dad? Schedule a call and pretend to talk to your new girlfriend or boyfriend.
A fake calling voice or your own audio file can be played once you receive the call, so you will know what to expect beforehand and talk naturally. Incoming fake calls also appear natural and altogether avoid suspicion, so nobody will suspect a thing.
Unlike the majority of fake call apps, this app lets you schedule multiple counterfeit calls throughout the day and includes a call log to save them.
Additional features
Calls can be scheduled to arrive now or at a later time
Each call scheduled can be individually customized
The app runs smoothly, with no interruptions.