You might be interested in learning how to self install Spectrum Internet. Spectrum Internet installation is generally a process you can carry out individually. You can save time and money by installing Spectrum Internet on your own through a few easy steps, and you can easily and quickly start using your new subscription.
When you take the connection of spectrum internet services then first work is you have to install or some process to get started the internet into your pc or mobile or TV, then it work. So, you have only 2 options first is that call the professional installation worker that takes charge or you have to self-install spectrum internet to get access the connection.
Did you recently subscribe to Spectrum Internet Deals and are waiting to get your internet installed? Well, the wait is over because after reading this guide, you will be able to install the internet all by yourself. Follow the instructions and you will be on your way to enjoy seamless service in no time. So, without further ado, let's dive right into it.
Let's go about the procedures for Self Install Spectrum Internet on your own, including activating your modem and router.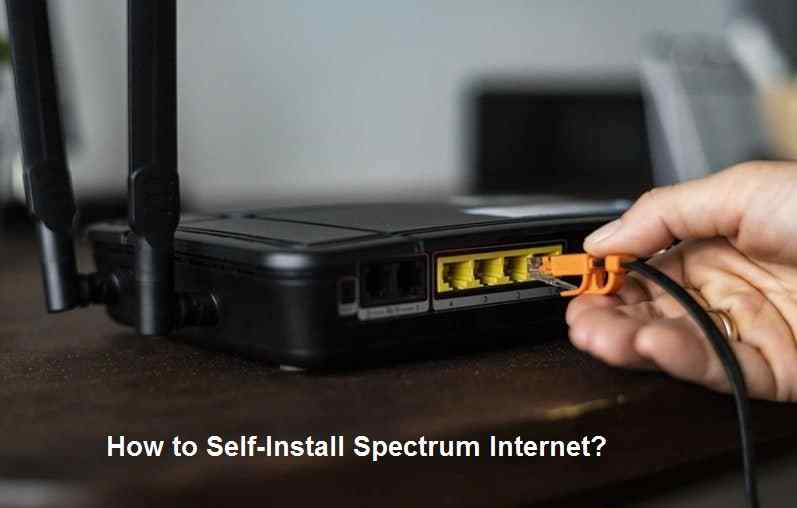 Getting Self-Install Kit
You need to get a self-install kit from Spectrum to begin the self-installation process for Spectrum Internet.
A modem, a router, wires, and set up and activation guidelines often come in the box.
You can pick up the kit in person at a Spectrum shop or have it shipped to you.
What Comes in Spectrum Self-Install Kit?
The Self Install Spectrum Internet package usually comes with everything you need to set up and activate your internet connection.
A modem, power cords, ethernet cables, a router, and coaxial cables are all included in the set.
A quick start manual and instructions for enabling your service could also be sent.
Spectrum's modem and router are compatible with the company's internet service, giving stable and quick access to the internet.
A WiFi extension, useful for larger houses with several devices, may also be included in some sets.
The self-installation package offers everything you require to quickly and easily set up your Spectrum Internet.
How To Self Install Spectrum Internet?
Connecting the Modem:
The first step in self installing Spectrum Internet is to connect the modem. The coaxial cable that transmits the internet signal into your home connects to the modem. Find the coaxial cable and attach it to the modem's coaxial port before you can connect the modem. Verify that the cable is properly attached to the port.
Make sure that all connections are tight and secure. Loose connections can bring on loss of signal or infrequent connectivity problems.
Once all the cables are connected, power your computer or router and check that the modem's lights indicate an active connection. This will confirm that the modem is properly connected to the internet and ready to be activated.
Setting Up Spectrum Internet & Voice Bundle:
Setting up your phone service is simple if you choose the Spectrum Internet and Voice bundle. Just use a phone cord to connect your phone to the modem. The modem frequently has a phone port named "TEL 1″ or "TEL 2", depending on the model.
Insert one end of the phone cable into the modem's port and the other into the wall jack on your phone to connect. After connecting your phone, you can activate your phone service online or by contacting Spectrum's customer care centre.
Visit the Spectrum website and log in to activate your phone service online to activate your phone service and input your phone number, and follow the on-screen instructions.
Modem Activation on Spectrum:
The next step is to activate your service after connecting your modem and ensure it's getting power and a signal. Visit the Spectrum activation page and log in to your account to complete this. You must first register an account if you are a new customer.
Once logged in, activate your modem by following the on-screen instructions. You'll need to enter the modem's Ip address, typically printed on the device's packaging or the bottom. Using your modem's MAC address, Spectrum will identify and activate it on its network.
Test the Connection:
First, open a web browser on your PC or mobile device to check your internet connection. Access a website like Google or Yahoo to see if it loads properly. If the website loads successfully, your modem is operating, and your internet connection is live.
You can use the speed test tool provided by Spectrum to determine the dependability and speed of your internet connection. This program measures your internet speed and provides information on the efficiency of your connection by downloading and uploading data.
Customize Your Network:
The first step is to log in to the user interface of your modem, usually using a web browser. From there, you can access the settings and modify the network name and password set up by default. You should pick a strong, unique password and avoid using common words or private information.
You can alter network security protocols, such as WPA2 or WPA3, and modify the network name and password, to guard against unauthorized access. Enabling parental controls might also be helpful if you have kids and wish to limit their access to particular websites or content.
You can adapt your network to your own needs and interests by customizing it. This could involve establishing a guest network, regulating bandwidth consumption, or prioritizing particular devices for quicker speeds.
Self Install Spectrum Internet vs Professional Installation
We normally have two options for setting up your home internet service: professional installation or self-installation. Each choice offers pros and cons depending on your needs and level of technical expertise.
Self Install Spectrum Internet
Self-installation is getting the required hardware from your internet service provider and configuring it independently.
Setting up the network settings, connecting the modem and router, and troubleshooting any potential issues could all be part of this.
Self-installation might help you save time and money because there are frequently no additional costs associated with this option.
Professional Installation
A professional from a trustworthy installation company will come to your house and set up the network and equipment there on your behalf.
To ensure maximum effectiveness, the expert will ensure the equipment is installed, set, and tested appropriately.
Due to the frequent installation price, this option could be more expensive, but it might be a viable choice if you lack the technical know-how or have a complicated network setup.
Useful Tips
If your modem is to share the cable with a Spectrum Receiver, make sure that you use a splitter. It helps split the cable signals between two devices so that they do not lose the connection. For optimal results, use the one that is rated at 3.5 dBm. You can easily get it from any Spectrum store.
In order to optimize your Wi-Fi experience, make sure that you place the wifi or wired router in a central location so that you can use the internet from anywhere in your home. Plus, keep it away from other electronics because other devices such as a microwave or baby monitor can disrupt your network's signals, making it impossible for you to access the World Wide Web.
Spectrum internet comes with a security suite, which monitors all your online activities and ensures that your computer is safe from the online threats.
You can also rename and change your network's password by visiting the Spectrum website. So, in case you are experiencing slow internet speeds, try changing the spectrum wifi password of your network because your neighbors might also be using your service. That's it, you are all set to go.
Check out the Latest articles
Conclusion
Self-install spectrum internet is not a tough task if you have good knowledge about that or you must have the proper tools, This article you learn about Self Install Spectrum Internet process, hope it will sure work and you can install internet properly on your home or office, If you have any kind of doubt just take a help of Youtube Videos and contact to the spectrum internet customer number. Hope you enjoy to read this article.
Self-installing is a straight forward process for your spectrum internet, and it helps to save you time, money, and energy. You can easily activate the router and modem and get your internet connection.
To choose the correct equipment, follow all Self Install Spectrum Internet guidelines carefully and troubleshoot any errors. In no time, you can enjoy reliable internet service with patience and effort.
Follow – https://viraldigimedia.com for More Updates