The COVID-19 pandemic has shaken the global economy, and many businesses have already collapsed. But some small businesses are still striving to keep running amid this global pandemic. These are what your small business needs to survive the COVID-19 crisis.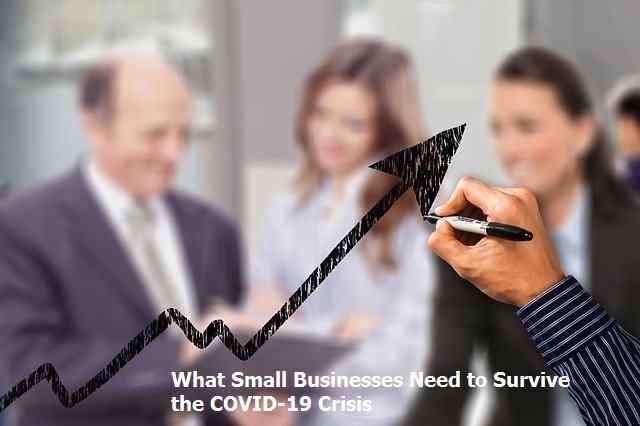 1.  You Need Business Finance
Amid the crisis, you need robust business financial management for your business to survive the challenges. Despite your line of operation, your small business needs money to restock and buy raw materials, maintain its market, and even pay the few workers you have. Proper business finance management will ensure that money is available every time your business needs it. If you are not so good at coming up with a strategic financial plan, you can always talk to experts; we strongly recommend getting in touch with Rangewell. They will guide you on how to build a strong financial foundation for your business.
2. Secure Liquidity
Access to cash is one of the major challenges faced by SMEs. While starting and running a business is risky, small businesses undergo major financial challenges that they need to overcome. Sources claim that not more than 50% of small businesses can last more than five years. This is caused by the inability to put up with overhead costs such as payroll, rent, and utilities. These costs leave very little money to run and even expand the business. Therefore, as you try to survive the COVID-19 crisis, you want to ensure that your small business has a reliable source of liquidity.
3. Talk to Your Staff
It is crucial to have a close relationship with your staff, especially now that the crisis keeps getting worse. Since the governments keep insisting that businesses should shut down, try to make your workers understand how the business might be affected. You might get a chance to share ideas with your workers on how the business can do things differently and still make money. Give them a chance to share their views and appreciate their efforts. Also, by talking to your staff, you show them that you understand what shutting the business might mean to them.
4. Be Creative
Even as physical shops might shut down as the outbreak keeps surging, you need to try operating your business wisely. If you have to deliver products to your clients, with social distancing in place, try to use a taxi so that you do not go against the government directive.
Also, for marketing purposes, you can use online platforms such as social media sites and blogs. Even as you do this, make sure that you keep your clients engaged with quality content that is relevant to their needs. Businesses that do not rely too much on people, such as e-commerce and online banking are more likely to keep operating even as the situation keeps raising concern.
5. Be Flexible
During this crisis, you are supposed to be as flexible as possible. Do not stick to one line of operation, but remain professional as you take up newer responsibilities that can generate income. As an example, you can talk to your online readers about COVID-19 and educate them about the implications of the condition. Let them know how it will impact their shopping experience and how they can still get served by you. Remind them that someone cares for them and that you would still be glad to serve them amid a struggle with the virus. If they have questions on their blog, try to give them enough attention to build trust that will later transform into business growth.
Conclusion
Proper financial management is the most important thing that your company needs to survive this crisis. If you do not have a good plan in place, talk to your experts right away, and they will help you find an actionable solution. It is important to keep your staff updated about the changes and transformations that your business is undergoing. It would be great if you create an online portal that lets your team collaborate remotely to support the business until the crisis is gone. We strongly believe that this is not the best time to lay off your workers. Instead, ask them to remain calm until the problem is gone.