Many modern digital publishers earn revenue through advertisements. It is an excellent passive income source that grows with the number of site viewers. The publishers use the Google ad revenue calculator to estimate potential earnings through website traffic and clicks.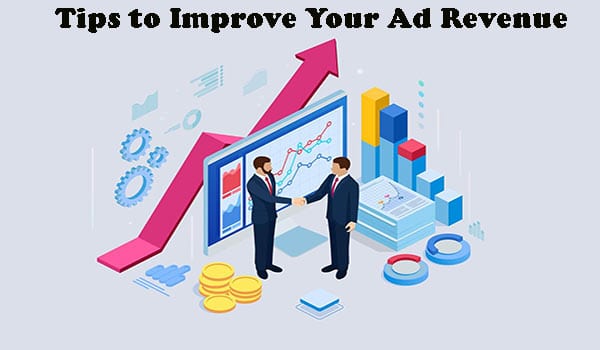 Most people think earning money through advertising online is simple. But it requires hard work to monetize your website and grow your business.
Below are insightful tips to help you improve ad revenue on your website or blog.
●      High-Quality Content
Provide content that adds value to users if you want advertisers to notice you. Identify a niche that will attract more traffic to your site. It is crucial to work smart to increase your ad revenue. For instance, if you are a nurse with writing skills, you can create an informative nursing blog to educate people on various diseases. It is a commercial field since the pharmaceutical is quite competitive with high customer demand. Therefore, a nursing website has a huge potential to generate revenue through drug advertisements. Users will visit sites with valuable and high-quality content, translating to increased returns on ads.
●      Generate Traffic
Ad revenue results from high website traffic; thus, identify practical ways to generate traffic on your site. Creating top-content is not enough if users will not visit your blog to read. Hence, optimize your site using appropriate keywords. Learn more about SEO writing and how to get high rankings on different search engines. Users should find your blog randomly when searching for related content because of optimized keywords.
Taking advantage of social media platforms is another way to generate traffic.  Leave links on other networks, and people will click and be redirected to your site for more information. Alternatively, you can use the paid advertisement option, where you pay a small fee for people to visit your site.
Getting page views is an essential aspect that impacts ad revenue. Advertisers often pursue websites with strong user traffic.
●      Type of Advertising
When you decide to monetize your blog using advertisements, research and know how other sites are doing it. How will you make your site better and more appealing? The advertising industry works in dimensions; some of the standard sizes include rectangles, leader boards, buttons, microbars, and banners, among others. Hence, carry out due diligence and understand the advertising types and sizes in your business niche. It will also assist you when designing your web pages.
Moreover, you will know the advertising source and figure out the best-priced ads in the market from various advertisers.
●      Employ Sales Representative
If your site is doing well in revenue generation, you can hire a sales agent for marketing purposes. Professional sales representatives will seek out potential advertisers directly and negotiate CPM (Cost per mile) deals. Since most agents have experience and marketing skills, they are better positioned to land lucrative deals with little effort. Invest in employing an expert to help you generate more ad revenue if your site has advertising potential.
Improving advertising revenue takes smart strategies and hard work to succeed. If your site has advertising potential, use the Google ad revenue calculator and the above tips to earn income while you are busy concentrating on other commitments.