Affiliate marketing has evolved as one of the most profitable online businesses today. That's probably why so many affiliate programs are becoming popular with people interested in making a full-time career from affiliate marketing. However, there's more to affiliate marketing than simply identifying a product and signing up for a related affiliate program. Unless you can drive relevant traffic, the whole thing doesn't make much sense.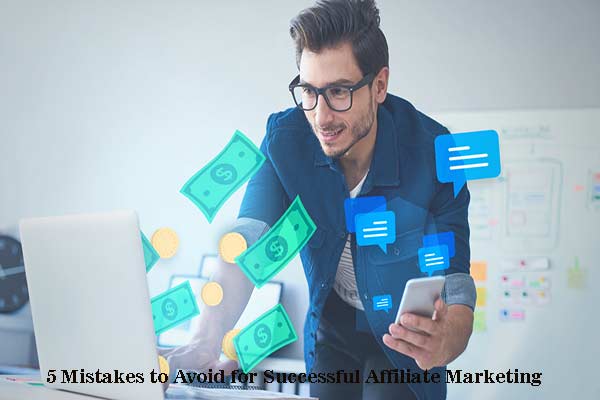 Here are 5 mistakes you should never commit if you want to become a successful affiliate marketer:
Promoting the Wrong Product
As mentioned earlier, if you pick the wrong product to promote and market, you will head nowhere. With millions of products to choose from, you must be careful with the product you select from the many affiliate programs you come across on the Internet.
After intense research, if you have zeroed in on the niche affiliate product that suits you best, you will think of creative ways to promote the product. If you pick a product already doing well in the market but has not quite anything to do with your line of thinking, you are wasting your time.
The niche you select should motivate you, and you should feel excited about promoting such a product.
Avoid Taking on Too Many Products
Being over-ambitious and trying to take up too many products could be your undoing. Most beginners like you are over-enthusiastic and make such mistakes.
You will only be wasting more time trying to promote too many products and won't be able to focus on any of them.  It is smarter to bet on quality rather than quantity. When you have something excellent to sell and give your 100 per cent, you will be successful.  Spending most of your precious time on one great product helps make your reviews and endorsements more meaningful. Such a smart move often leads to better sales in any of the countless affiliate programs you have researched before deciding.
Having a Dull and Uninteresting Website
Not taking your website design seriously is a big mistake. A poorly designed website is not very inspiring and does not attract users. A low-quality website only means low sales volumes.
Hence, your approach to designing a website should be very professional.  Your focus should be on building a user-friendly website and making sure you leave it to a professional to develop inspiring designs.
Maybe you should get familiar with WordPress to get an idea about how to design a website.
Pages that load slowly and have too many ads running through cause a bad user experience. They often discourage users and lead to a high bounce rate.
Not  Having Relevant Content
Content is king, and not providing high-quality content is a mistake you should certainly avoid.
As content is essential for successful marketing, you must take pains to create relevant, high-quality content. If you can't do it yourself, leave it to professionals, because every written word reflects your personality and your company's background.
Ensure that your content is meaningful and actionable. Your content should address a specific purpose and offer the best solution.  In short, learn how to become a good storyteller.
Not Keeping Track of your Website's Performance
If you want to succeed in your affiliate marketing venture, you need to track your website's performance continually. If you make the mistake of not using a proper tracking tool for your website, your affiliate programs business will suffer.
One of the best tricks to successful marketing lies in tracking your data, which you need to optimise. Try using the Google Analytics tool, which helps you measure your website's performance and lets you know about the best campaigns.
Summing it Up
The Internet is a vast jungle, and you can quickly go unnoticed and get lost unless you make yourself visible. If you follow the above tips, you would be able to make your website more visible, which, in turn, will help you become a successful affiliate marketing professional.