Technology is a double-edged sword that cuts both ways. It can make your life easy, but at the same time, it can prove to be a nightmare. When you see people deeply immersed in their android or IOS apps while ignoring the friends and family around them, you don't feel that liking for the technology anymore.
On the other hand, if you use technology appropriately, then it can do wonders! We don't have to pay extravagant bills for making international calls anymore, thanks to IP telephony. Similarly, with google maps and GPS, there is no need to ask anyone for directions to a destination. To be further amazed by the future of navigation, you can also do a smart city online course.
When we use such products and get fascinated by the advancement in technology, we sometimes have this urge to do something ourselves. That sudden spark in the dark could motivate you to work on a product of your own. But here comes the question of being technology savvy. No matter how creative you are, if you do not know how to use a brush, the painting will never make it to the canvas. Hence, to be a part of the technology paradigm, you need to get your hands dirty. Here are ten things that you should consider doing if you are interested in technology.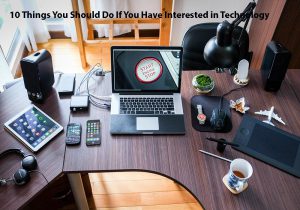 Do Technology Reviews
If you love learning about new technologies and products, this is the thing for you. Exploring the pros and cons of new products, while sharing your knowledge with others, can be a fun-filled job. You can have your technology review channel on YouTube as well. As your reviews get better and your channel subscribers increase, you will start making good money too.
It is one of the most natural fields for a technology lover, with no significant barrier to entry. You do not always have to buy the products that you review. You can always ask your friends to let you unbox their new gadgets. Once you get a little famous, companies will give you samples of their latest releases, expecting some positive reviews and marketing.
Become A Graphics Expert
Computer graphics is one of those work areas that has a unique luster. As photography and videography are digital these days, all the image processing happens on computers. Apart from that, computer animation has become a vast domain in itself. Whether we talk about film production, or games, animation is an integral part.
With a wide array of options to choose from, you can easily make a start in the field of computer graphics. Edit photos in Adobe Photoshop, design brand logos in Inkscape, or do 3D animation in Maya.
Mobile Application Development
While browsing through the Google Play store, have you ever wondered about the origin of the millions of applications? Developers create a significant percentage of these apps while sitting at home.
You need to have a basic understanding of programming languages and a decent computer. Rest, you can learn online by watching YouTube videos and doing short courses. You can download frameworks like Android Studio and use your mobile for application testing.
Game Development
Who has not played games on Sega, Nintendo, PlayStation, PC, and smartphones? It is such a massive market for gaming that it has beaten Hollywood in terms of revenue.
There are two primary game development software, Unity 3D and Unreal Engine. You can download the trial or free versions to take a start. Again, lots of videos and courses are available online that are easy to understand. And you only need your computer or mobile phone to do the testing.
Study Data Sciences
Billions of computers and smart devices in the world generate a colossal amount of data. A data scientist uses mathematics, sophisticated algorithms, and tools to extract meaningful patterns and useful knowledge from the bigger data.
It is a comparatively dry and complex field. But since it is a field of the study recently developed, there is a lot of room for advancement and is highly in demand.
Learn More: What is Data Science?
Artificial Intelligence (AI) Programming
Movies have helped us understand the concept of AI reasonably well. Machines that seem to be making decisions of their own according to different circumstances are called Artificially Intelligent. It is all programmed. They are not conscious beings!
There are unique languages that are used for AI programming. Like computer languages, they have their development environments. It is a complex and demanding field; hence, YouTube and online courses would not be of much help. Get yourself enrolled in the respective engineering discipline if you want to design the next Terminator.
Learn IP Networking
We all know what the internet is, but most of us are unaware of the building blocks of the big web. There are various technologies, layers, and protocols that drive the internet. All the devices that are connected on the internet must have a unique IP (Internet Protocol) Address.
Technological advancements are making almost all devices IP enabled. You can buy IP allowed bulbs and lights, washing machines, and even MRI scanners. Therefore, a good knowledge of IP Networking will not only help you integrate different technologies; it will also increase your chances of career growth.
Be A Cyber Security Expert
With computer data now being one of the most critical assets for any organization or individual, cyber security, or computer network security, has become of utmost significance. We keep hearing about websites getting hacked, or personal computers of celebrities getting compromised.
If you have a good understanding of how IP networks work, you can further advance your skillset by learning cybersecurity techniques and tools. Cybersecurity professionals are one of the highest-paid professionals in the job market.
Research & Development (R&D)
Traditional R&D encompassing different sciences never gets old. While the majority of technology giants focus on internet and data technologies, there are some companies like Tesla that are revolutionizing the industry by bringing in significant technological changes.
If you are the Einstein type and have always wished to travel through time, then you can play in a sophisticated lab, and develop new technologies. But, for this, you must make your career as a hardcore research enthusiast.
10.Design Engineering
This domain is somewhat similar to research and development. However, there is a slight difference. Whereas R&D mainly focuses on discoveries and inventions, design engineering revolves around making efficient, cost-effective, high utility, and aesthetically appealing products.
This field of interest requires a postgraduate degree in the respective engineering discipline and offers a lucrative career.
Conclusion
Technology is rapidly changing and continuously evolving. The domains that we have shared above are highly in demand and will play a significant role in shaping the future. You must keep in mind that each of these areas has a lot of depth, and therefore requires dedication to attain mastery.
Therefore, as a technology enthusiast, you should now decide whether you want to be the master of one or jack of all.