You can advance in your career by taking training and earning certifications. Having them can strengthen your chances of getting your next job or moving up in your current company. When the economy is spiraling during uncertain times like these, certification is especially important. It shows your employers that you are a proactive and credible employee who is committed to what you do. As a result of Coronavirus, the unemployment rate has soared, and many workers hope to maintain their job security.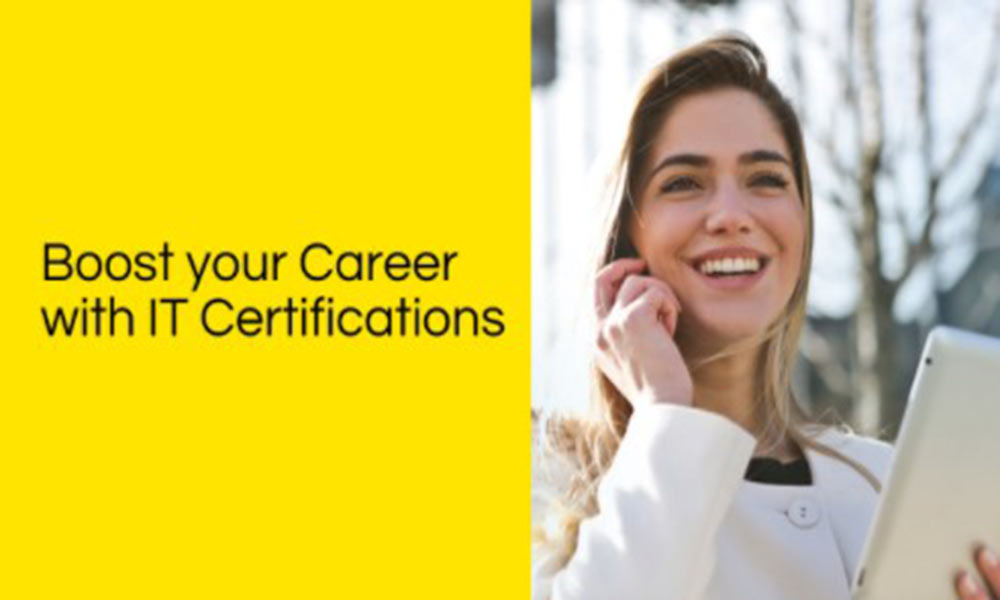 5 Ways Certifications Help You Build Your Career
Get to know the five ways certifications can help you boost your career and secure your future.
1. Start Your Career
If you are a recent university graduate or planning to transition to a new career path, earning the appropriate certification can help validate your knowledge and skills in your chosen field.
In many cases, college graduates do not have the skills needed by the job market. While they have gained a theoretical understanding of subjects, they still lack some of the skills necessary for working in a production-ready environment.
Young professionals can bridge this gap with the help of well-designed training programs. You can boost your career by proving your expertise and becoming more marketable through certifications.
2. Freshen Up Your Resume And Gain An Edge Over Other Candidates
Developing your skill set on a continuous basis is encouraged and expected in today's highly competitive and ever-changing job market. 
You can use your resume as a platform to show off all your achievements if you're seeking a specific career path.
You become more marketable and relevant to employers by learning new skills. Having certifications demonstrates that you are both well-trained and committed to your career. Certifications demonstrate your competence as well as your ambition.
Getting certification and enrolling in a course will give you experience that you can put on your resume.
Recruiters and companies are attracted to applicants like these, especially when there are a lot of candidates who match the job description. Credentials will make your personal brand more appealing and will help you stand out from the crowd.
Acquiring relevant skills within your field will make you more valuable to your potential employer.
3. Earn A Certification Online To Enhance Your Professional Endeavor
While you are under lockdown or social distancing measures, it is still possible for you to receive a certification. Whether you want to advance your career or switch careers quickly, online certifications can assist you in achieving your goals.
Make sure to choose wisely, as not every course is created equal. Check with your professional field to make sure the certification is accepted and complies with the current industry standards and guidelines.
When it comes to having expertise and knowledge in network fundamentals, network access, IP connectivity, IP services and security fundamentals, earning the CCNA certification will help job seekers enter the field faster.
4. A Certification Ensures That You Are Prepared To Develop Skills Desired By Companies
New skills are increasingly needed because of the rapid advancements in technology. As a result of the digital transformation, jobs are now difficult to fill because they require specialized skills.
These job opportunities may be perfect for employees at a time when recruiters and executives struggle to find candidates!
World Economic Forum estimates that more than half of the workforce will require reskilling and upskilling by 2022. By researching now and learning valuable skills, you can stay ahead of the curve.
Finding out what organizations need can be determined by researching the most in-demand skills. Keep your skills up-to-date by upskilling frequently. You can secure your position in your chosen industry by expanding your knowledge over time and staying current.
When a new job opportunity arises unexpectedly, it can help you get back on track quickly.
5. Meet Your Long-Term Career Goals
In order to have a successful career, it is essential to have a clear vision of where you want to be in the future. This is like reverse engineering. When you know what your goals are, you can determine what tactics and steps you need to take to reach them. When you understand your long-term career goals, you'll be able to make the right decision and not pay for the wrong certifications or upskill in the wrong direction.
Observe job postings closely, and learn as much as you can about your industry. These will give you a better understanding of what industry leaders consider essential for the positions you desire. You can also seek advice from industry professionals to determine whether a particular certification is valuable. You must invest your resources in the right milestones if you wish to streamline the whole process and achieve your professional goals.
You can enhance your career outcomes and reach new heights by earning a certification. Learning new skills, strengthening your knowledge, and increasing your salary prospects can all be benefited by continuing education.
Top IT Certifications to Boost your Career
Google Cloud Certified Professional Architect
Average Salary: $139,529
Price: $200
Target Audience: Professionals seeking to work with Google Cloud technologies; certification in GCP Cloud Architect shows expertise in designing, developing, and managing cloud architectures.
Requirement: Although there is no requirement for the GCP certificate, learners benefit from some background knowledge in cloud computing.
Maintaining Certification and Renewal: Certifications last two years, and learners must pass another multiple-choice test after that. The two-hour test costs $200.
AWS Certified Solutions Architect – Associate
Average Salary: $108,000
Price: $150
Target Audience: People who work in solutions architecture and have at least one year of experience.
Requirement: There is no formal requirement, but experience in the field is preferred.
Maintaining Certification and Renewal: AWS certifications are valid for three years. Exams must be taken again to renew the certification. A discount voucher is provided by Amazon for renewals. Learning professionals can apply for recertification at the associate level or to advance to the professional level.
AWS Certified Developer – Associate
Average Salary: $97,000
Price: $150
Target Audience: Developers and administrators with at least one year of experience deploying AWS-based applications. By earning this certification, you demonstrate your expertise in building, deploying, and debugging cloud-based applications.
Requirement: Prior to taking the exam, Amazon recommends knowing at least one high-level programming language and having one year of experience. There are no prerequisites, but learners benefit from prior experience with AWS services and security practices.
Maintaining Certification and Renewal: AWS certifications are valid for three years. Associates must retake the exam to maintain certification. There is a discount offered by Amazon for recertification. Students can also advance to the professional exam for recertification at the associate level.
Certified Information Security Manager (CISM)
Average Salary: $124,000
Price: $575 for members; $760 for nonmembers
Target Audience: The CISM program from ISACA focuses on developing business management skills and developing competencies in information security management, design, and oversight.
Requirement: Candidates must have five years of experience in the field, but coursework is not required. Students benefit from a minimum of three years' experience as a security manager. There are four exam domain areas: information security governance, information risk management, information security program development and management, and information security incident management.
Maintaining Certification and Renewal: CISMs can renew their certification annually or every three years. Every year, individuals must complete at least 20 hours of continuing education. For recertification after three years, 120 hours of continuing education are required. Maintenance fees must also be paid annually.
Certified in Risk and Information Systems Control (CRISC)
Average Salary: $119,000
Price: $575 for members; $760 for nonmembers
Target Audience: By acquiring the CRISC credential, IT professionals are able to identify, assess, and respond to security risks while building advanced skills in risk control monitoring and reporting.
Requirement: There is no coursework requirement for the CRISC certification, but learners must have experience in two of the four domains identified by ISACA. Among these are information security governance, information risk management, information security program management, and information security incident management.
Maintaining Certification and Renewal: Learners must submit proof of continuing education requirements annually or every three years to maintain their CRISC credentials. One-year renewal requires only 20 hours of continuing education, while three-year renewal requires 120 hours. There is also an annual certification maintenance fee.
Certified Information Systems Security Professional (CISSP)
Average Salary: $109,000
Price: $699
Target Audience: CISSP certification is offered through the International Information Systems Security Certification Consortium (ISC)² and demonstrates a capability to design, implement, and manage cybersecurity programs.
Requirement: Five years of high-quality full-time experience in two of the eight CISSP specialization areas are necessary. 
The areas of emphasis include security and risk management, asset security, communication and network security, and security assessment and testing.
Maintaining Certification and Renewal: CISSP professionals must submit documentation of their continuing education hours annually, along with an annual maintenance fee. Certifications and renewals are valid for three years. Holders of certifications are automatically renewed if they meet the annual requirements.
Certified Ethical Hacker (CEH)
Average Salary: $90,000
Price: $850 including official training; $100 without training (must be approved through the eligibility process)
Target Audience: The Ethical Hacker Certificate is offered by the International Council of E-Commerce Consultants (EC-Council) and is intended for security officers, auditors, system administrators and any other individual responsible for maintaining network and data security.
Requirement: There is no requirement for courses or credentials for the CEH exam. EC-Council requires candidates to have at least two years' experience working in information security to take the exam if they did not complete the training program.
Maintaining Certification and Renewal: CEH credentials are valid for three years. Holders are required to complete 120 hours of continuing education during that time. Participants can earn continuing education hours through online and in-person activities, including conferences, webinars, and research.
CompTIA Security+
Average Salary: $72,000
Price: $339
Target Audience: CompTIA Security+ is the first security credential offered for IT professionals, as it builds foundational knowledge in risk management, risk mitigation, threat management, and intrusion detection. Additionally, certifications train individuals in implementing, installing, and configuring secure network and wireless security systems.
Requirement: CompTIA Security+ examinations have no requirements, but IT auditors, penetration testers, system administrators, and security professionals benefit from their experience in the field.
Maintaining Certification and Renewal: Learners must complete 50 credits of continuing education every three years to maintain their CompTIA Security+ credential. The certification will automatically renew after three years. Continuing education requirements can be met through CompTIA online courses, higher certifications, or similar field-specific activities.
Top Certifications in Project Management, Business Leadership, and Teambuilding To Boost Your Career
IT-related certifications do not always draw directly from the field. Due to information security's importance to businesses and industries around the world, IT professionals may also benefit from certifications in business leadership, teambuilding, and project management.
Project Management Professional (PMP)
Average Salary: $104,000
Price: $405 for members; $555 for nonmembers
Target Audience: The PMP certification is offered by the Project Management Institute (PMI) to demonstrate expertise in planning, implementing, and leading projects while collaborating effectively with teams and colleagues.
Requirement: Those with a high school diploma, associate degree, or equivalent international degree must have at least 35 hours of project management education and 7,500 hours of experience in project leadership and management. An individual with a bachelor's degree needs 35 hours of project management education and 4,500 hours of project leadership and direction experience.
Maintaining Certification and Renewal: In order to maintain the PMP certification, holders are required to complete 60 hours of professional development work every three years. Renewal fees are also required. Professional development classes are offered through PMI. Professional development hours can be earned by working as a practitioner, creating content, and giving formal presentations. Meetings with organizations, certifications, online courses from outside entities, and self-directed study are also considered.
Certified ScrumMaster (CSM)
Average Salary: $104,000
Price: ~$1,000 (varies by course provider)
Target Audience: Based on the Scrum framework, the CSM credential from ScrumAlliance demonstrates expert knowledge of the values and principles necessary for effectively leading teams and groups while minimizing external and internal distractions.
Requirement: Students must pass a 16-hour course taught by a Certified Scrum Trainer. There are no additional requirements.
Maintaining Certification and Renewal: Certified Scrum Masters are required to complete 40 scrum education units every two years to maintain their certification. Participants can earn education units by participating in community webinars, Scrum events, and Scrum research and writing activities. A CSM who misses the recertification deadline must complete additional education hours to renew their credentials.
Conclusion
The Information Technology industry has grown exponentially in recent decades. Our lives have been impacted in more ways than we can imagine. This technology can be found almost anywhere. It is one of the main reasons people choose to work in the IT industry. Worldwide, there are millions of companies providing IT services in some form or another.
For this reason, picking your field of expertise and working hard for certification is the best way to be recognized at work or to improve your career prospects. It is proof that you have mastered the concepts of the field and can easily handle projects in that area.
With some practice tests, you can gain real exam experience for IT certifications and thus determine the level of your knowledge. ExamPirate is a platform which provides you with sample questions and answers that help you with real-life hands-on experiences in order to prepare for the IT certification exam. 
Then what are you waiting for? Upgrade your career and earning potential with an IT certification. Start preparing for IT Certification exams from ExamPirate today if you want to pass the exam in one go.
Follow – https://viraldigimedia.com for More Updates