Choosing a career is a tough decision for many people out there. But there are a few people who have a clear idea of what they want in their career. These few people are the ones who turn their passion into a career, for example, athletes, cricketers, photographers, etc. But not everyone has a passion. Some of them even cross their 30's while finding their career choices. It is alright to be a part of this situation where you are still figuring out what to choose for your career because you know yourself better at this age. You are familiar with your likes and dislikes, and that helps a lot in choosing any career path.
You have to make a wise decision while choosing a career because it will be the work you would do for your lifetime. You will have to spend every day with it. Thus, it is necessary to make sure that the work-life suits you. You should not only consider the salary or the environment but also how it will affect your personal life.
Whether you want to switch your career or wish to decide on which would be the best path so that you pursue your majors in it, this article would help you out. It contains some of the helpful tips that you can use or evaluate for yourself while choosing the right career.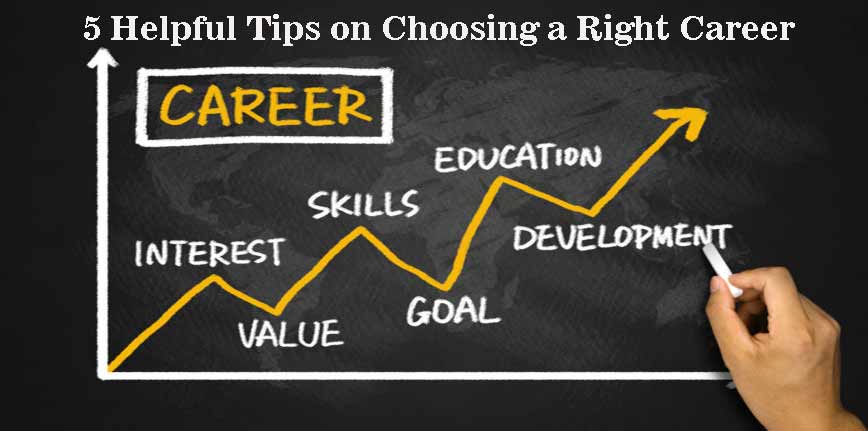 Do Self-Evaluation:
Self-evaluation is of utmost importance while making your career choice. You should be well aware of your interests, skills, hobbies, likes and dislikes. These things will help you in determining the right career path. You know yourself better than anyone else, and that's what you should consider when choosing your career. List down all the things that you would like to do in your life as your work.
You have to realize that people sometimes get tired of their daily life because they have to start their next day again with the same work. Ask yourself this question that would you be happy to start your next day with the same work, or will it be exhausting? All of these things will help you in finding the right qualities and interests. You can also take some self-assessment tests that determine your choices and present you with the career paths that suit your personality. If this does not help you, then take the help of any career counselor.
Work on the list:
Once you have a list of all your interests, likes, skills, and hobbies, start finding out what type of work is available related to all of them? Start exploring every entry on the list and make a clear description of the kind of work and how it will help your development. Also, find other relevant things such as training, educational requirements, any license requirements, and the importance of that work in the future. Some jobs fulfill the requirements for the time being and then get outdated. Thus, make sure that the work you choose has better scope and demand in the market.
Now, let's say you have 20-30 entries on the list with every detailed information, start reading and strike off the ones that don't fit with your educational criteria. You can then end up with a minimum of 5-6 entries on your list that you would be able to work for without any obstacles. You can now have a deeper understanding by researching at a higher level on this set of entries present on your list.
Talk to people working in that field:
Many people surround us, and there would be at least one person doing the work that relates to your listed entries. You can reach out to them and ask them how is the work environment, what type of challenges do they have to face, what is the growth rate, and last but not least how satisfied they are with this type of work. You will hear different opinions from different people; some will give positive feedback while others will give negative feedback. It is upon you to decide whether you will do everything that comes in your way after choosing that particular occupation. Having clear and firm answers to all the questions is necessary to make a wise career decision because you should not regret at a later stage for choosing it.
Determine your working style:
It is essential to find your working style while choosing a career path. You should know that every occupation holds a different work environment. The corporate jobs require you to sit in a cubicle for 8-9 hours, and fieldwork requires you to visit various sites, health-related work will put you in challenging life-death situations while the artistic work will put you in a creative environment. It is all up to you to find out all the answers to the following questions. How would you like to see yourself in the future, which of these environments suits your personality the best and what type of work will satisfy you? Do you want to work in an enclosed cubicle or want to connect with people and involve in social connections? Knowing all these things will matter a lot when deciding the right career path.
Make a choice and create a plan:
Once you have a clear idea of what you want to choose for your career, start working on it. You should be the one to shape your life's narrative and do everything that your heart desires. You may want to use a professional resume writing service, such as ARC Resumes, to boost your resume and increase the number of interviews requests you receive. If needed, you can start planning your majors or training courses that you require to pursue your future career. Set some goals and make a plan of what you want to achieve in a specific time frame. Dedicate your time to doing things that can help you in achieving your dream career path. Find whether you need to do an internship or involve in any other work that proves to be useful in your future career and start working on it.
Conclusion:
Choosing a career can become confusing at times but don't let it discourage you. Take some time, find your interests, and then look for what you want from your life. We feel that this article helps you in choosing your career path and gives a clear idea of what things you should focus on for a better career.