The main objective of a website is to get more and more traffic to convert them into sales later on. As the competition among the websites is growing at a very fast pace and to be on top some different need to be done. In this blog post we'll describe some of latest trends and methodologies to enhance the online presence of your website, the followers of your website and at last engage more and more traffic.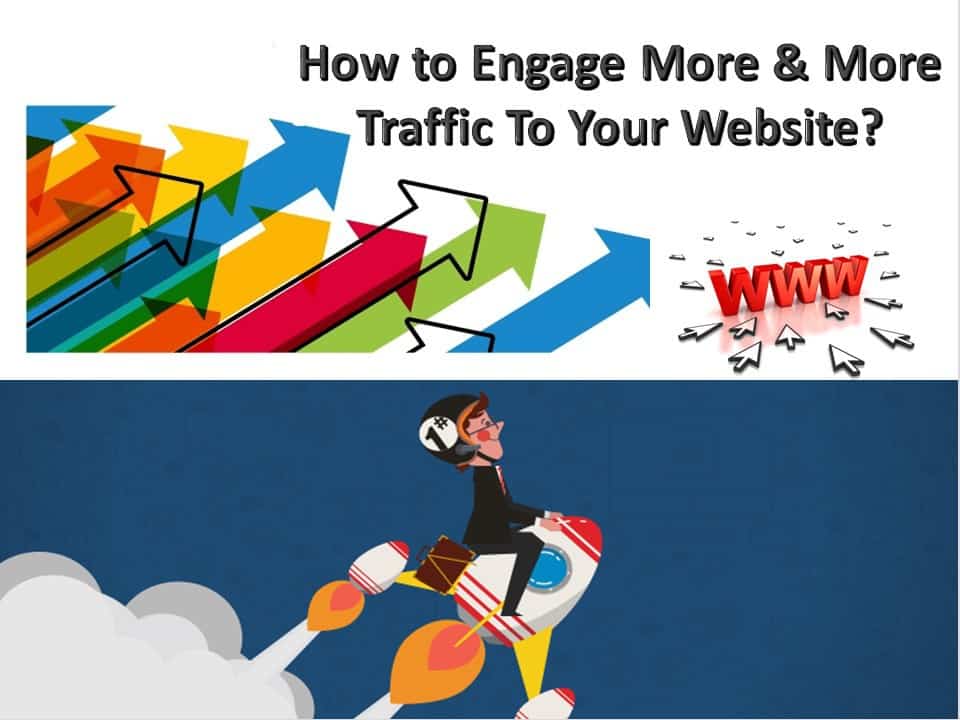 Proper SEO Campaign
You don't just desire for any kind of traffic for your website. You desire beneficial traffic that will increase your sales, by any means direct or indirect. The major point to understand over here is that just target beneficial keywords with target audience in mind. For instance, if you provide, logo design services, you must write content around "photoshop, graphics and GIF techniques" rather than write content related to "web design languages" that will really target your audiences.
Analyze Competitor Keyword
Analyzing Keyword before inserting them in your website content and setting campaigns. Keyword is the main activity that engage more and more traffic to your website. This activity requires a lot of attention and analyzing. Keyword analyzing is a complicated job. If you want to understand all of its advantages, this post will assist you. But the best way is to emphasize on finding the keywords that are present in your competitor's website content. Keywords with high search volume and low keyword complexity is very important for website traffic.
Post Unique Content
Content is King and to engage more traffic to your website, content must be unique. Unique content is ranked higher in comparison to duplicate content as per the search engine algorithms. The important thing to note here is that, once all your blog or articles are posted on the website, try to change the existing content on regular basis for better ranking. For that some efforts will be required but this helps to achieve the goals a website is looking for. You should analyze the web pages on your site that bring traffic and check if any possibility of improvement is present to increase traffic growth. As per expert observations, search engine loves the modified content and it will drive more traffic.
Social Media Promotion
Social media is one of the best way to connect with users and engage more traffic to the website. A large number of people out are connected with each other through social media platforms. In order to target the desired audience, target the social media platforms.
Pinterest is the best means for visual businesses, and designs. LinkedIn platform can be targeted for business and expert of several modes. Facebook and Twitter are the best social media platforms that can target every group of audience without any trouble.
Marketing of a website on the social media platforms is quite cheaper than the PPC activities you run on Google search engine. The significant thing of about the advertisements you run on the social media is that they are focused and target based on the interests. There are several kinds of advertising strategies present on these social media networks. Thus, you already have website content or blog that can convert leads into sales, you can advertise your website posts, not the products or a brand in particular.
Create User Interest
Creating user interest in your website is very important to drive more and more traffic to a website. User interest can be created by posting interesting topic, catchy headlines and infographics. In addition to that, if you have Ecommerce website post some offers like discount, coupons and hurry up offers. All such activities engage more customers to the website. Giving the lottery offers and playing quiz like activities also increase the customers presence on the website. Post every day, some interesting content for your target audience, special discount offers, phrases, quiz, etc.
Conclusion
Now I think you get the point why I had to write this blog with important things like quality traffic above quantity traffic and free traffic issues. If you want to have loads of excellence traffic to your website follow above tips and work hard with proper investment.
Author's bio:
I am a professional content writer since 2011 working with SEO Services Company Delhi and graduate of the English with a degree in Mass communication. My written blogs and articles have been published in several online publications. I am fond of writing, reading, traveling, and Internet surfing.