Social media presence is no longer an exception but rather the norm. It is the way for making headways and tapping into your target audience, reaching out to prospects, gaining insights and growing your brand, business and bottom line. If you do not have a prominent presence, then a social media agency comes to the rescue by helping out in this endeavour.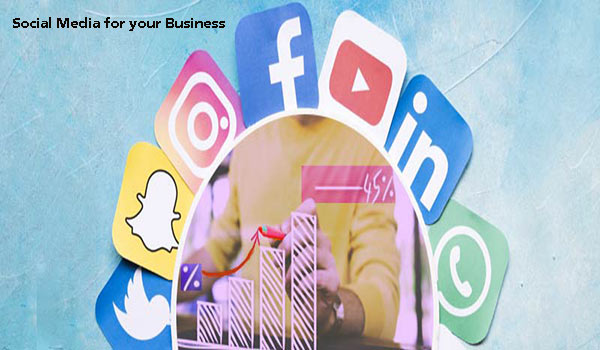 With over 3 billion online users, there are immense opportunities for companies to save time and money. Social media presence offers a fast and cost-effective way of reaching out to prospects.
Ten Profound Benefits that social media has for your business
Increasing Brand Awareness
Brand awareness is the most sought-after benefit that social media platforms offer to your brand. With varied platforms and their peculiarities, companies can use their strengths to create a competitive edge using social media.
A profound example is the energy drink brand Red Bull, which posts captivating promotional content to spread awareness. The tagline that "Red bull gives you wings" speaks of adventure. And, hence, adventure and extreme sports lovers feel a connection with Red Bull. More so, Red Bull started an Instagram campaign promoting the Summer Edition tropical-favorite drink.
Branding Boost through User-Generated Content
GoPro, the camera and video-editing software brand, has been pumping up its social media presence through user-generated content (UGC). The brand curates programs to fuel its content creation game. It encourages followers to post captivating photos and videos to win prizes under the GoPro Awards, such as cash and gear and social currencies of tags and re-shares. More so, its Million Dollar Challenge distributes the 1 million USD bucket among the users whose clips get featured in the year-end highlight reel.
Humanize your brand to foster lifelong connections
Among the various ways of developing connections, humanizing your brand makes for a standout contender. Get this right, and your following is eternal. Showcasing the human side makes your content highly relatable to the audience and makes you an excellent relationship manager. A profound example of this is the Amazon Story Boxes campaign by the eCommerce bigwig, Amazon. The campaign brings forth the experiences and stories of Amazon shoppers.
Build credibility and grow your brand with digital partnerships
Digital partnerships as an umbrella term have multiple meanings. For simplicity, the interpretation takes to social media influencers. Influencer marketing is a profound way of adding credibility and growing your brand value. Think of it as digital word-of-mouth.
The Marriott chain of hotels was among the frontrunners for embracing the potential of influencer marketing. It partnered with Youtube influencer Jeana Smith for celebrating the milestone of 1 million check-ins through the mobile application.
Expanding the customer demographic
A brand can have an appeal across age groups, professions and other parameters. However, the brand should keep in mind to not forgo its core customer base or its Unique Selling Point (USP) when targeting a new demographic.
A brand that received a killer response in this endeavour was the St. Regis hotel. The brand partnered with Naomi Davis, a blogger and social media influencer. She visited Monarch beach on Father's Day weekend and published her experience. Her posts displayed facilities that appeal to young children, and since then, St. Regis has become a choice for family vacations.
Handling Crises through humor and wit
It is not uncommon for brands to fall prey to a crisis. And when that happens, social media offers a great place to flip the narrative. People on social media are constantly in search of engaging content. So befriend humour and wit and make it count.
One such profound campaign was by KFC. In October 2017, KFC decided to end its relationship with Bidvest Logistics, a food delivery company, instead of Quick Service Logistics and DHL. Few weeks following this new-found contract, DHL failed to fulfil a just-in-time order, leading to a calamity for KFC. KFC flipped the crisis and managed the mayhem by rearranging the letters of its brand to FCK on a chicken bucket. This play on its letters transformed the brand value of KFC and made it a breakthrough marketing campaign.
Managing reputations by keeping up with the conversation
To stay relevant and in the good eyes of customers, jumping on the bandwagon of current conversations is paramount; veganism is one of them. Such is its prevalence that KFC was victim to the campaign "Kentucky Fried Cruelty". KFC turned the narrative by partnering with PETA, an animal rights entity, to garner support for its vegan Chicken at its Atlanta outlet.
Customer Service and Support
Cometh any grievances and difficulties, businesses and brands need to be there for their customers. Social media accounts, apart from awareness and brand-building, are excellent for resolving issues. So make your social media account and brand pages user-friendly and accessible.
Keeping up with your market and competition
Now that all brands have some presence on social media, companies can use the online forum to see what their competitors are doing.
Understanding your clients and customers
Like how social media users learn about your business activities and brand, the same applies to businesses. So use social media to interact and engage with your customers and prospects to understand them. Understand the demographic and psychographic factors about your followers and better market and target your promotional content.
Ending Notes
In today's day and age, having a social media presence is paramount. It is no longer an exception or luxury but rather a norm and necessity. Social media networks have over 3 billion followers, and to stay relevant, brands must tap into the social media universe.
There are significant benefits for businesses to gain through social media, such as increasing brand awareness, boosting their brand reputation and reach, fostering lifelong bonds, enhancing credibility and appealing to a new demographic. More so, social media campaigns are a great saviour in times of crises. Additionally, social media presence helps in resolving disputes. Furthermore, businesses get to understand their market, competitors and customers.