In our day-to-day life, there are a group of assets like food, metals, or energy that are very significant to us. These are known as commodities. The commodities are exchangeable by nature. They can also be moved from one place to another. To know more about commodities and how trading in commodities work read this article.
Commodity Trading In India
In India, commodity trading started in the ancient days. Back then people used to trade commodities to buy another commodity. Even today, in villages farmers exchange commodities, to buy goods from other farmers.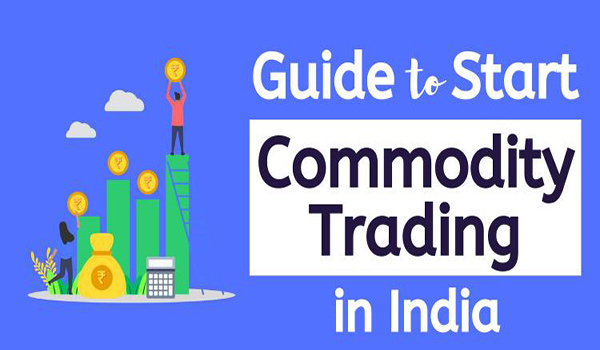 However, in the world of trading, trading in commodities works differently. The trading happens on the commodities exchange, where various commodities (Agricultural and Non-Agricultural) and their derivative products are bought or sold. The most common form of agricultural products include everyday food staples and non-agricultural commodities include metals and energy items. 
How Does Commodity Trading Works?
Just like any other market, the commodity market works as a physical or virtual space, where traders can buy and sell various commodities at present or future dates. A trader can also use futures contracts in commodity trading. 
A futures contract is an agreement between the buyer and the seller, where the buyer agrees to pay the amount at the time of transaction after the seller delivers the commodities on the pre-decided date in the future.
So a trader can buy or sell agricultural (rice/wheat)/non-agricultural (gold/crude oil)  futures for delivery on the pre-decided date at a price decided in the present. 
Similar to a stock, a trader can invest in commodities through the commodity exchanges. Traders can use their existing trading account for trading in commodities. 
What Are The Commodity Exchanges In India?
There are
six major commodity trading exchanges
in India:
Multi Commodity Exchange – MCX

National Commodity and Derivatives Exchange – NCDEX

National Multi Commodity Exchange – NMCE

Indian Commodity Exchange – ICEX

Ace Derivatives Exchange – ACE

The Universal Commodity Exchange – UCX
The SEBI regulates commodity market trading in India. The day-to-day operations are looked after by The Commodity Derivatives Market Regulation Department (CDMRB).
What Are The Commodities That You Can Trade?
There are two kinds of commodities that you can trade. 
Agricultural Commodity

Non-Agricultural Commodity
Agricultural Commodity
Non- Agricultural Commodity

Berley, Chana, Wheat, Maize, Moong, Paddy, Cotton, Guar seed, Guar Gum, Castor Seed, Soybean, Refined Soy Oil, Crude Palm Oil, Sugar, Turmeric, Jeera, Coriander, Pepper 

As per The National Commodity & Derivatives Exchange Limited (NCDEX).

Gold, Silver, Aluminium, Brass, Copper, Lead, Zinc, Natural gas.

As per The Multi Commodity Exchange of India Limited (MCX).

The ICEX also allows trading in diamonds and steel.
What Are The Hours Of Trading In Commodities?
You can trade in commodities from Monday to Friday from 10:00 a.m to 11.30 p.m (IST).
Conclusion
Commodity trading is a highly leveraged investment with chances of higher returns and higher risks. As commodity futures are very liquid, investors can make easy entry and exit. But as the market is highly volatile, there are chances that you win big or lose big. 
So, it is not recommended for new investors. So, trade carefully and smartly so that you can earn huge profits from it.
Follow – https://viraldigimedia.com for More Info