In the world of writing, plagiarism checking software may be one of the most important tools ever created for writers. Assuming that we all understand what is meant by intellectual property, you can actually get into so much trouble or even lose your integrity simply by failing for simply refusing to use this tool. As a writer, you have the right to your work and no one else is supposed to use that work without your permission. In case someone uses your work, they are supposed to give you credit as the original creator or author of that work. But how is all this related to plagiarism a plagiarism checker and how is this information relevant to the writer? In this article, we are going to try and understand what plagiarism checker is and the uses that it has to the writer in regards to intellectual property.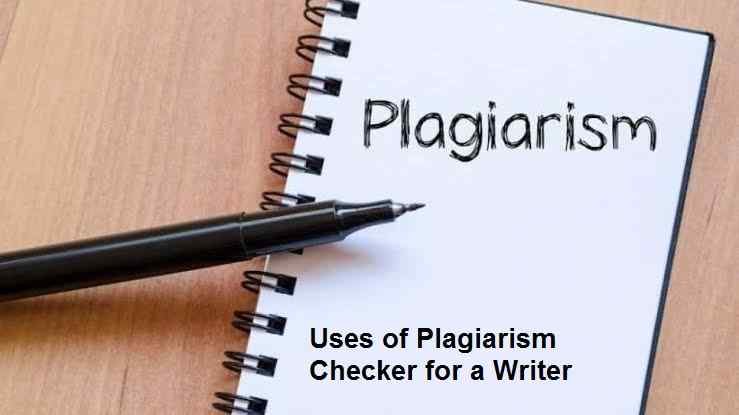 What is plagiarism?
To truly understand the importance of the free online plagiarism checker and its use for a writer, we need to clearly define plagiarism. This alludes to the act of stealing or copying someone else's words, ideas, and creations and presenting them as your own without their permission or without even giving them credit. In the world of writing, you may pick out content from the internet and add it to your book or article and pass it off as your own. This is considered as a crime in the world of writing and is viewed as highly unprofessional. This may destroy your professional reputation as a writer and may also attract legal and monetary repercussions in case the original creator of the work decides to take legal actions.  This conduct is considered both as larceny and fraud of intellectual property.
What is a plagiarism checker?
This can be defined as software that locates or detects instances of plagiarism within the written content. For example, if you are writing an article and you copy the content from an online source, book, or any other paper that has been submitted, the plagiarism checker will highlight such an instance and in some cases, list the sources where you go the information. Most of the checkers are online-based and are used at all levels of writing to determine the level of originality of your work. To avoid plagiarism, it is usually advised to write any form of content from scratch and only use your ideas. SO, how do writers use this plagiarism checkers in their work? Let us explore the uses of plagiarism checker for a writer.
Uses of Plagiarism Checkers
They help save time
How would you check if your work is original if you have not used such a tool? The traditional method would be to compare your work manually against that of other writers. This would be an extremely tiring process that would take an average of weeks or months to complete. Plagiarism checkers are used by writers since they help them save time and energy. This software work extremely fast and can explore the whole web in a matter of minutes which is very convenient. They also highlight and indicate the parts that are not original helping writers save the amount of time they would use to identify these sections.
They are used to find evidence
In most cases, the checkers provide a link to the source where the work was copied. This is great as it gives the writers a tool through which they can use to collect evidence of plagiarism. The writers are able to find duplicate content and in most cases use the given ideas to develop their own which is very useful to the writer. Without solid evidence, it would become difficult for the writer to determine whether the captured instance was really true or a scam.
They are used to stay within the regulations of writing
No writer wants to be wrongfully accused of copying another person's work. Writers use this important tool to check and ensure that their work is original despite the fact that they have written it from scratch. Plagiarism checkers will detect any form of similar phrases that may have found their way into the writer's content. In this way, the writer will be able to get rid of such instances and make their work more original.
Useful for web writers that have short deadlines
As a web writer, you will always face the challenge of short deadlines. Web content is quite complex given the fact that many of the topics have already been discussed. It is therefore very easy for you to submit a paper that has high instances of plagiarism in this niche. Plagiarism checkers are used by the writer to shorten the time that use to check their work for originality. Always remember, great companies like Click Here can always help you by producing plagiarism free content or by guiding you on how to write superior quality original articles. Such professional companies always use the best plagiarism checkers on the market and you can be sure of your work.
Checkers also check for logical and grammatical errors
Writers also use the plagiarism checker as a tool to eliminate errors in their work. As you read through your work trying to establish your level of plagiarism, you may notice some errors that you made in your writing. Some of the good plagiarism checkers will also do this for you and underline any form of mistakes. This is useful to the writer since he can also use this opportunity to proofread and edit his/her work before submitting it.
You may also like: 7 Tricks to Write Engaging Marketing Content
As a writer, it is always important to remain relevant and original in all your creations. This can at times prove to be a difficult task given the level of competition out there and the fact that most of the ideas have been exploited by other individuals. It is however always good to stay on the safe side and use tools that will help you maintain your integrity. Plagiarism checkers are very useful tools for all writers and you should always ensure that you use one before submitting any kind of content for publishing.