If you are an entrepreneur, an experienced businessman, or a start-upper, you are sure to need online promotion for your business. The era of mobile and web apps requires the newest updates for all of your projects. The mobile apps are being developed nowadays for almost all the industries, be it finance, healthcare, or a real estate enterprise. That is why the demand for web app developers for hire is constantly growing, and sometimes the demand exceeds the offer.
Since any business can benefit from new apps very much, web developers play a great role in the rapid growth of any company. This article is meant to show how much influence good web app developers for business can contribute to positive changes in your enterprise, and how to avoid the risk of hiring a web app developer who does not correspond to the needs and perspectives of the services or products you provide.
The role of offshore and outsourced web app development is still growing, so we recommend paying special attention to hiring a dedicated and professional outsourcing company to solve the time- and cost-saving issues while developing a new app for further company's promotion.
Difficulties of Hiring Web App Developers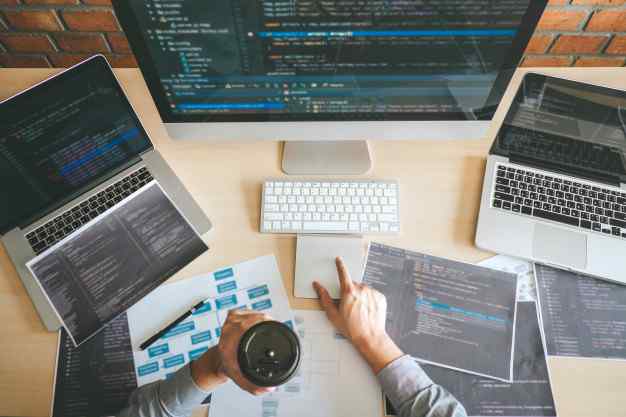 While searching for a responsible and well-qualified web app developer for your company, you may face some unavoidable issues. There is no need to worry about the consequences and results if you hire web app developers as new members of your team. It's enough to consider some risks and be aware of the ways to minimize them.
The bad quality of work, lack of dedication and responsibility, ineffective communication, and high salary demands are the difficulties you can come across either while hiring an in-house or outsourced web app developer. You need to take them into account and think about all the options of replacing an ineffective worker as soon as possible.
The lack of experts can also be a big issue. If you are restricted to one area only or some neighboring places for the search of a coder, you could choose a developer who does not fully correspond to your requirements. The hope for immediate learning and following all the instructions may lead to your complete frustration, loss of time and money, and necessity to look for another specialist. The waste of time can sometimes result in your company's decreased profits and faulty position on the market.
To avoid such difficulties, outsourced application development is strongly recommended. However, there are also certain risks here:
Remote collaboration can lead to some kind of miscommunication and misunderstanding.
Time zone differences mean some effort for choosing the most convenient time to hold meetings or discussions of urgent issues.
Various cultural backgrounds lead to different approaches to the speed of work, meeting deadlines, asking questions if needed, dealing with issues, and so on.
Confidential information leakage can occur because some sensitive data of a client company should be provided to an outsourced developer. That is why some legal and organizational measures should be taken beforehand.
Pros and Cons of Outsourced Web App Development and In-House Team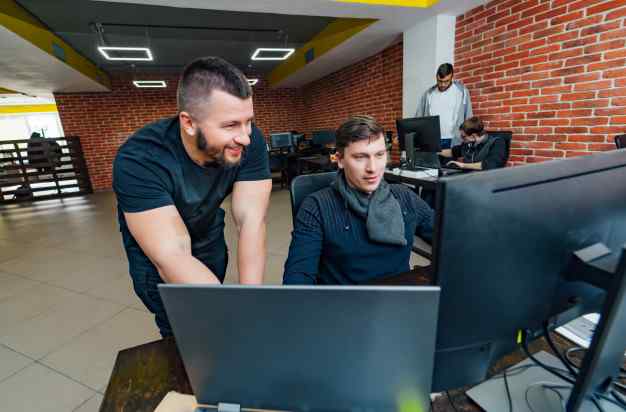 As a rule, every business owner wants to save time and money while developing a new app. At the same time, the app should be of the best quality. That is why they are often stuck at the solution of either to hire an outsourced web developer or another member of the in-house team. To help you make the right decision, we consider the pros and cons of each option.
The In-House Team
It is a widely-accepted opinion that if people work in the same office, the level of cooperation is higher. To some extent, it is true. First of all:
they know your company, its requirements, needs, products, and corporate culture;
they communicate fast and easily without any unnecessary delays.
However, there are certain disadvantages such as:
full-time salary should be paid out to your office workers, no matter whether they have much to do, don't do anything at all, are on their sick-leave, or take a vacation;
they need some workspace, costly equipment, and office supplies for developing a new app;
the list of well-qualified developers for hire is limited by your area only or those who would like to relocate;
the in-house team needs an effective manager to guarantee a quick response, effective work, and a great result, and it means additional hiring.
App Development on Outsource
A decade ago, companies did not rely much on outsourcing. The situation has changed nowadays, and hiring remote web app developers is a common practice that has its advantages and disadvantages.
As for the advantages, they are the following:
recruiting process takes less time because you can hire top experts from all over the world instead of being limited to your area;
you can hire developers for a certain project, so you are quite flexible with the speed and length of the development;
the developers you have hired on outsource are paid only for the time they work on this very project, and they do not need any extra equipment or space;
you can pick out the most qualified and experienced developers ever, so the quality of your web app will be much higher.
Though, consider some drawbacks of the outsourced web app development. Among them, there are the following ones:
              lack of direct communication;
              different time zones;
              different cultural views and beliefs;
              language differences.
You can use some communication software (e.g. Slack) or software for project tracking (like Jira), any online conferencing instruments (Zoom). They will help you improve communication significantly. And, if you deal with an app development outsourced company, they will offer you ready-made and united teams that have already established means of effective communication.
How Much It Costs to Hire a Web App Developer in 2020
The modern mobile technology landscape is ever-changing, and it takes strategy and a lot of expertise to develop a successful mobile app. If you want it to be stunning, establish the project's requirements as much exactly as possible. To help a developer to complete it with the flying colors, be sure to prepare a brief and cost esteem including such details as:
the target platform for app development (e.g. Android, cross-platform, or iOS);
design and development work to be done;
the technical specs for API integrations;
the target audience;
specifications for the design like color palette, logos, fonts, and brand guidelines;
the milestones for the project.
All these components are vitally important for making up the cost esteem for a web app developers' salary to be paid.
The typical rates, which are charged for the services by web app developers in 2020, range between 16 up to 75 dollars per hour. The cheapest rates for mobile app developers are between 16 and 55 dollars, and the most expensive prices are for iOS developers – 45-75 dollars/hour. The rates for developing web applications for PCs range between $20 and $80 for an hour.
How a Web App Developer Can Save Time and Money
There are plenty of benefits your business gets after developing a new web app. Among them, apart from general saving time and money, are the following ones:
facilitating communication between management, stakeholders, employees, and clients promoting special offers, product launches, and activities of the company;
improvement of customer loyalty by rebuilding the company's reputation: the seamless and continuous connection between the business and its customers is provided by integrating the various features for, for example, sending real-time reminders or improving online services;
promoting the company's sales by spreading awareness about products and services is achieved through addressing the huge target audiences that have shifted from their PCs and laptops to their smartphones;
enhancing customer engagement by a 24/7 customer support which can solve any issues and answer all the questions, for example, dealing with complaints and suggestions, reviews, and feedback can make most people visit the website and use the app more frequently;
competitive edge options are provided by the possibility to update the app regularly if it is created by a dedicated developer; moreover, such an app can boost the revenue in a cost-effective way to make your company still more competitive;
increasing brand recognition is achieved by such customer-friendly features of a new app as loyalty programs, media integration, customer support characteristics, and reviews;
increasing visibility with a new business app is meant for reaching a huge audience and integrating the emerging technologies of AR, VR, and IoT in the app.
In conclusion, it is worth saying that experienced and creative web app developers can change any business and boost its efficiency by making up the advanced web and mobile apps. There are many benefits of engaging such developers in providing the integration of technological advancements. It is always a good cost-saving investment that can ensure your business a big profit and take your enterprise to the next level. If you want to save money, hire web developer outsourced teams.
Avoiding risks from hiring outsourced web app developers and making a consistent business plan for such development will provide more benefits. Despite the difficulties of working with both on-site and offshore web developers, the advantages are much more prospective and promising. Using the tips from this article, you can hire the best web app developer ever and put more value into your business.