Let's say you want to post or make some fancy edits of some pictures and videos you recently took, but you don't have the necessary gear actually to work on other than your phone. There are plenty of free apps on the Google Play Store, and the Apple App Store that would be perfect for the job, here are our top 5 picks that are easy to use and edits smoothly.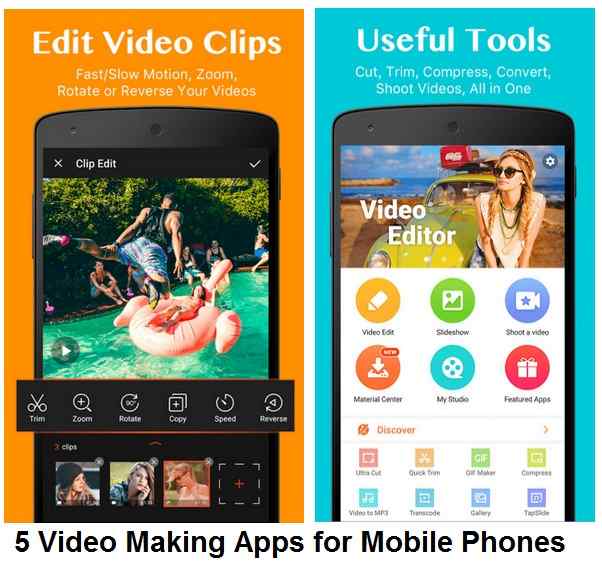 Apple iMovie
Among the many video-making apps for iPhone, iMovie allows you to create a proper and professional video with just a few quick taps. Snap a few pictures and record a couple of videos and directly import them into the platform, and you're ready to get going on your editing process. It's as quick and as easy as that.
Being an app made from the all-famous Apple, there are sure to be more than a dozen video templates that you can use. You can directly base the structure of your video from those templates, or you can use it to inspire your ideas for your template. iMovie also provides its own background music. However, you have the choice to use your own.
Vizmato
Vizmato is a video editor that is available for both iOS and Android users. Recording high-quality videos with effects already applied is possible with this mobile app, but you can still use pre-recorded videos. Within Vizmato, there are plenty of themes that they have to offer, such as 'Basic, Happy, Holiday, Romance and Party', and so much more.
Vizmato also offers its own music to allow your video to be more exciting and fun to watch. However, you can still use your own music to let your unique video to stand out from the other videos that are posted within the app's community. Although the application is free, a small payment of $11.99 to unlock more features, remove the watermark, and a VFX pack.
Cyberlink PowerDirector
Cyberlink PowerDirector is the mobile accompaniment of the already existing desktop program. It's the ultimate video editing software crammed within a small workspace. However, you'll need a very generous screen space to be able to access the application to its full potential knowing that it has many attributes.
Having an already familiar interface, PowerDirector allows you to combine multiple videos, add special effects, your own choice in music, pictures, narration/voice-overs, and adjustments in speed and more. Having many features within the app ensures that it has a high learning curve so you'll need to tap around and familiarize yourself with everything.
Adobe Premiere Rush CC
If you're someone who's looking to put your name out on YouTube, then Adobe Premiere Rush CC is your go-to application. Able to cross-link with your desktop, with Adobe's cloud services, you can start your project on your desktop and finish it off on your mobile phone, tablet, or laptop or vice versa, to make sure you're getting your video out there ASAP.
Being a cinematographer isn't required when using Rush CC because the application already offers plenty of graphic templates, allowing you to edit font sizes, change color schemes, and many more. Not to forget that as a video editing software, there's always the option of including your own mixes to make sure your video is exciting.
Adobe's Premiere Rush CC is available through the Adobe Creative Cloud subscription, or you can pay a small price of $9.99 per month, you can first try out the app as it does offer a free trial service. The application is available for iOS, Android, macOS, and Windows.
Vidlab
Vidlab allows you to trim, link, rotate and cut multiple clips to make sure the structure of your video turns out how you want it to, but that's just the start. Once video assembly is finished, you can start adding text, still pictures, voice-overs, and your own music from your library. It also offers a wide array of sound effects and transitions to make things exciting.
Although the app is free within the Apple App Store, you can 'unlock' more features via in-app purchases, which range from about 99 cents to $4.99, but those are just for the extra features within the app. Removal of the watermark would cost an extra $1.99.
Takeaway
There are many more applications within the Apple App Store and Google Playstore that can get the video editing done, these are just our top picks as they are the most efficient and can perform really well. You just have to find the application that feels right and works right for you.