We all get tired of a routine 9-5 job and dream of owning a business at some point. If you are among those lucky ones who are already running a business or just about to launch one, our article is going to help you in multiple ways. We come across many clients who focus so much on the growth itself that they forget the key resources which need to be blended in the right proportion to make the right potion for success and growth.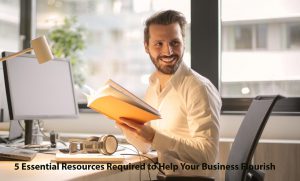 If you are a business owner who is on a constant hunt to find the right balance of resources and techniques that will help your business flourish, then read on because we are going to talk about key resources without which any business whether small or large cannot sustain and grow.
FINANCIAL RESOURCES
When it comes to starting or growing a business the first thing that comes to anyone's mind is capital or finances. It is inevitable, as you will want to accumulate an adequate amount of finances to run smooth operations of any business. Don't worry If you do not have enough savings in your account, you can consult with Startup Accountants in Los Angeles, or wherever you are based, who will be able to advise on the other options at hand. Let us look at some of these options:
Bank Credit Card
While acquiring traditional bank loans may yield higher interest rates and require lengthy procedures, using your own credit card is a smart move to finance your small business.
Borrow From Friends And Family
If you are not eligible to apply for a bank loan, you can ask your friends or family to invest in your business and give them a share in equity in return or agree upon the re-payment schedule.
Traditional Bank Loans
Many businesses opt for traditional bank loans to establish and grow their desired business. If you have a satisfactory previous record of acquiring and settling a bank loan and foreseeing a stable cash flow, it is one of the most effective options to finance your small business.
Business Line Of Credit
Instead of taking a hefty amount from a bank at once, you can opt for a business line of credit which will give you the flexibility to avail the funds as per the requirement at a particular time to achieve a certain milestone. The accrued amount can be re-paid through generated revenues which makes the payback of credit easier for the business owners.
The financing source entirely depends upon the size and nature of your business, your estimated Pay-back time and Return on Investment, and Expected Revenue and Sales. If you are new to all this, it might seem like a tedious task, but proper planning will help your business thrive and flourish over time.
HUMAN RESOURCE
Whether you are an owner or manager of a small or large business, you must know the importance of matching the right people for the right job, but it can be a daunting and time-consuming task. It may cause you to shift your focus from the organizational goals and objectives to the tedious job of recruitment and selection of HR Personnel for your business. There are many specialists in this field such as at Work Australia Employment Services who will carry out the pre-screening of employees in terms of skills and expertise, attitude, education, etc. regardless of the industry, you are operating in, to ensure only the qualified candidates are sent to you for later stages of recruitment. If you are thinking about the fee, then without any further delay let us tell you that these Government funded facilities are subsidized for you. Not only this, they will help you in providing post-placement support, financial support if required and refining the HR organizational policies such as inclusiveness and diversity.
All you need to do is give them the basic information about your organization, the requirements of the role such as skills, education and expertise, salary range and any other specific requirements and they will do the rest for you.
KNOWLEDGE ABOUT THE INDUSTRY
To excel in any field, it is very important to acquaint yourself with the current trends of that industry. Whether you are an entrepreneur or running a business on a large scale, continuous process improvement, adaptability to change and implementing new technologies will not help in optimizing your existing resources but also in expansion and growth in revenue.
In the age of the digital world, it is very important for every business owner to gain in-depth knowledge of market trends using social media analytics tools and techniques. These tools can help in developing the company's marketing and growth strategy as per the fast-changing trends and continuously monitoring the results and improvising. Furthermore, you can also analyze competitors' strategies, find ways to capture the unexplored niches and stand out from the rest in the market to give your customers what nobody else is offering in the market.
TANGIBLE RESOURCES/FIXED ASSETS
Physical office space, furniture, stationery items, Internet, information systems, marketing material, etc. are required for the smooth running and growth of any business. The more organized your office is, it will be easier for employees to achieve business targets and organizational goals. However, it includes some risky decisions about the procurement of big items which must be made very diligently to avoid any unnecessary financial strain on the business.
SUPPORT AND MENTORSHIP
While it may sound easy, running a business is harder than it sounds. Managing multiple projects, working with tight deadlines, managing stakeholders' expectations, achieving sales targets, and fulfilling corporate social responsibility can take a toll on business owners. In such times emotional support from family, friends and peer groups play an essential role in keeping the morale high.
Mentors who are sincere about your business can affect overall growth manifold. It is important to organize networking and brainstorming sessions regularly. It will give you an opportunity to learn from the experts.
Conclusion
Starting or growing an existing business might seem like an incomprehensible task but with hard work, determination, and effective decision-making, nobody can stop your business from flourishing. To ensure that your business grows, invest a good amount of time in planning, hiring the services of professionals and making the most of the available resources at hand.